February 18, 2013 in Bodas, Decoracion, Decoration, Weddings
Si  juntamos que según Pantone el color de 2013 es el verde esmeralda y que este año se estrena la nueva versión de El Mago de Oz, no se me ocurre un momento mejor para escribir este post y que sirva de inspiración a todos aquellos que quieran hacer una boda diferente con pequeños guiños a la película o con algunos detalles de este precioso color que quedará genial complementando la decoración esta primavera.

Summing up according to Pantone the color of the year is the emerald green and this year is the premier of  the new version of The Wizard of Oz, I can not think of a better time to write this post  that will inspire all those who want  a different wedding with little nods to the movie or some details of this beautiful color that complements perfectly the decor  this spring.
Y aunque no vivamos en Kansas podemos crear nuestro propio camino de baldosas amarillas en cualquier parte porque, en ningún sitio se está como en casa, así que  solo nos hace falta un poquito de imaginación y de fantasía para hacer de nuestra boda un momento único y conseguir que sea la mejor boda en la que nadie haya estado jamás.
And although we do not live in Kansas you can create your own yellow brick road anywhere because it is no place like home, so we just need a little of imagination and fantasy to make our wedding  unique and  the best wedding anyone has ever been.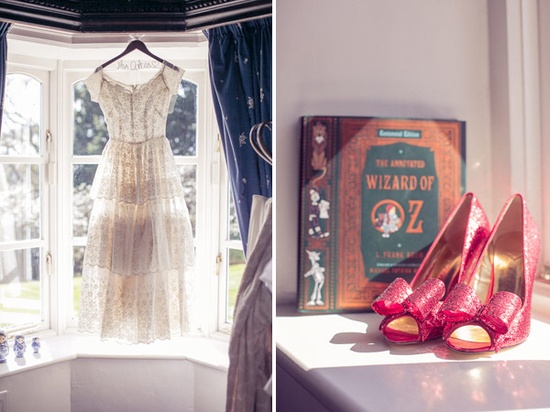 Foto vía One Fab Day
Un toque rústico y un poco vintage quedarán genial en una boda con esta inspiración , por ejemplo una invitación tipo cartel de feria que nos recuerde el oficio del Mago de  Oz será ideal para avisar a los invitados del tipo de boda a la que van.
A slightly rustic and vintage touch will be great in a wedding with this kind of inspiration,for example an invitation that looks like a  fair  poster that reminds us the job of the Wizard of Oz will be ideal to advise guests on the type of wedding they have been invited.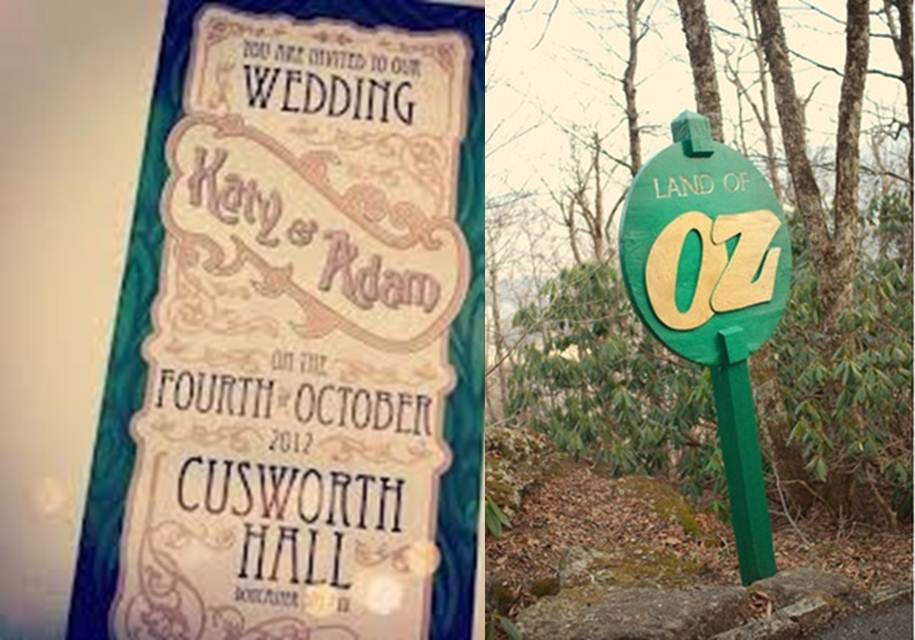 Fotos vía Pinterest
Y no se me ocurren unos centros de mesa mejores que unos pequeños globos aerostáticos como estos y es que los globos nos pueden dar mucho juego, desde las invitaciones, los números de mesa, hasta incluso  el photocall.
And I can not think about bestc enterpieces than small hot air balloons like these, indeed ballonns  can give us a lot of posibilities, from the invitations, table numbers, until even the photocall.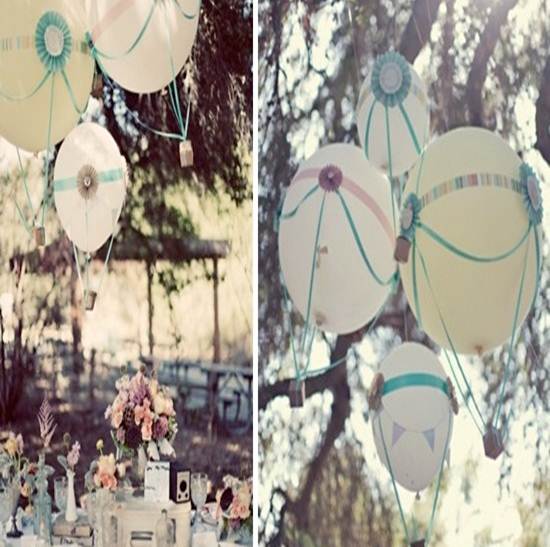 Foto vía Weddings by Lilly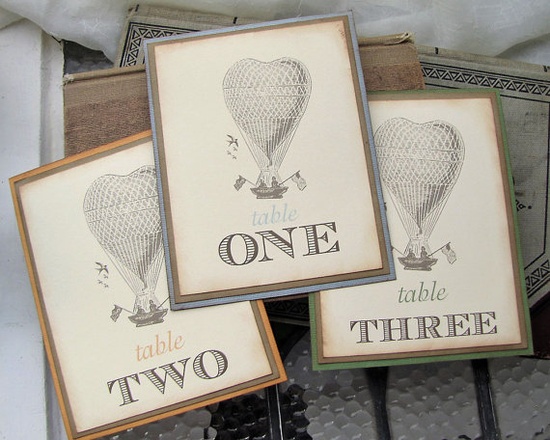 Foto vía 3D Memoirs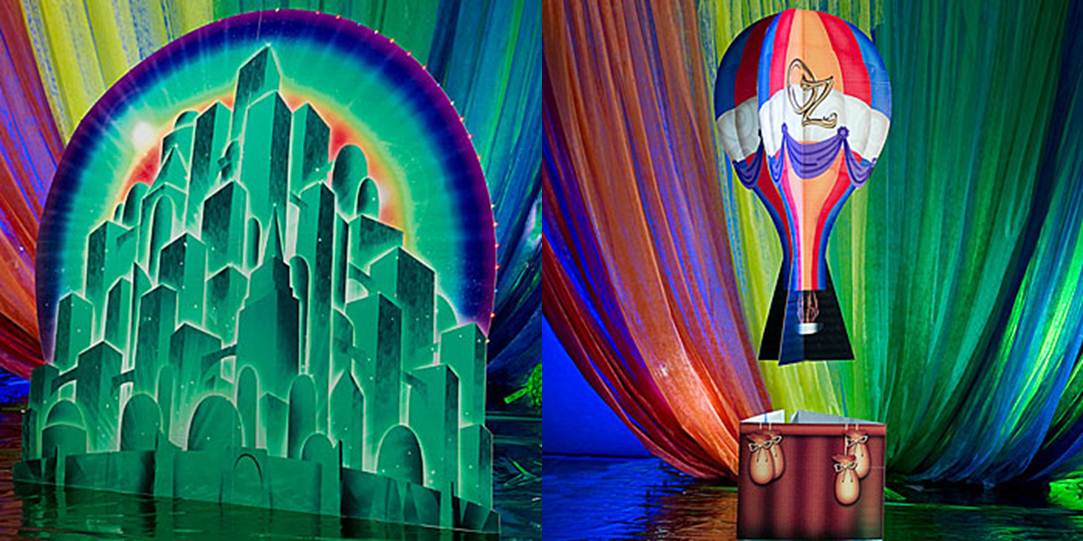 Fotos vía Squidoo 
El lugar sin duda en el que podremos hacer un mayor derroche de color será en la candy bar y en el cakes buffet con cupcakes verdes y montones de tarros y tarritos llenos de gominolas y caramelos del mismo color.
The place certainly where we can make a greater waste of color will be  the candy bar and the cakes buffet  with green cupcakes and lots of jars and jars full of jelly beans and colored candy pieces.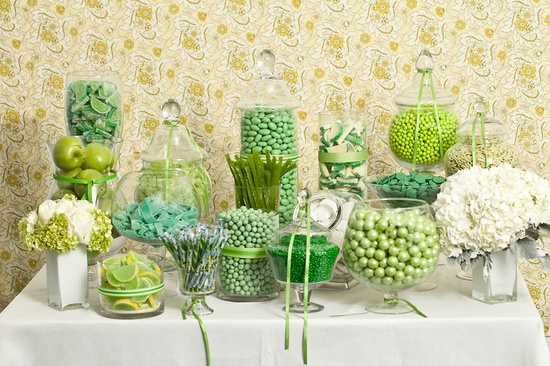 Foto vía Nuts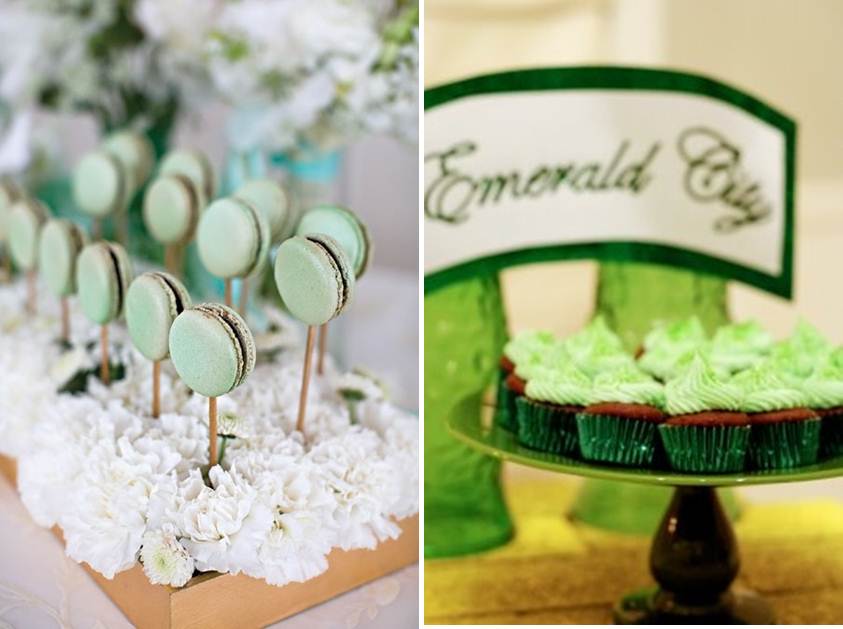 Fotos vía Stlmag  y Moo Moo´s & Tutus
Antes de terminar quiero añadir una foto nueva, el  ramo de una de mis compañeras de este mundo bodil, el de  Detrás de una Boda , con un precioso broche con una imagen de El Mago de Oz, eso si que es seguir el camino de baldosas amarillas.
Before ending I want to add a new picture, the   bouquet of one of my colleagues in this wedding world, which led  Detrás de una Boda, with a beautiful charm with a picture of The Wizard of Oz, this really is  follow the yellow brick road.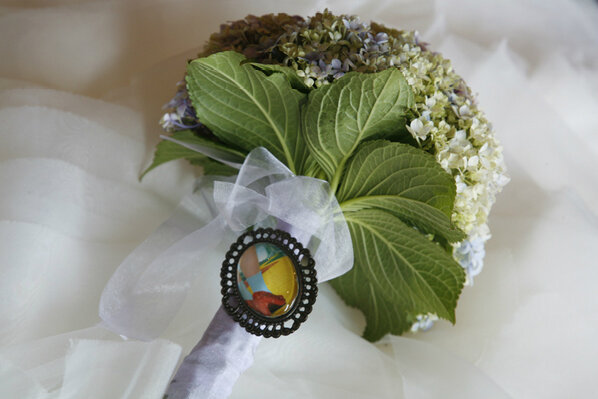 Y si después de todas estas inspiradoras  imágenes todavía quieres ver más, haz click aquí y si quieres que te ayudemos a preparar y decorar tu boda esmeralda no dudes en ponerte en contacto con nosotros.
If after all these magic pictures still want to see more, click here and if you want us to help you to prepare your emerald wedding  please do  not hesitate to contact us.