April 23, 2013 in Bodas, Decoracion, Decoration, Weddings
En la era del libro digital,  de los e-books y de las tablets hoy, 23 de abril, Día Internacional del Libro le dedicamos un homenaje al libro en papel pero dándole un uso diferente, valorando no solo su contenido sino también su aspecto para usarlo como elemento decorativo tanto para el hogar como para decorar por ejemplo tu boda, donde se pueden convertir en el motivo principal en torno al que gire toda la decoración.
Hello Pretty Placers!!
In the era of the digital books, e-books and tablets, today, the 23th April, The International Book's Day, we honor the paper book but giving it a very different use, valuing not only it content but how it looks like, to use it a a decorative ítem even for home than for weddings where it could be the centre for the whole decoration.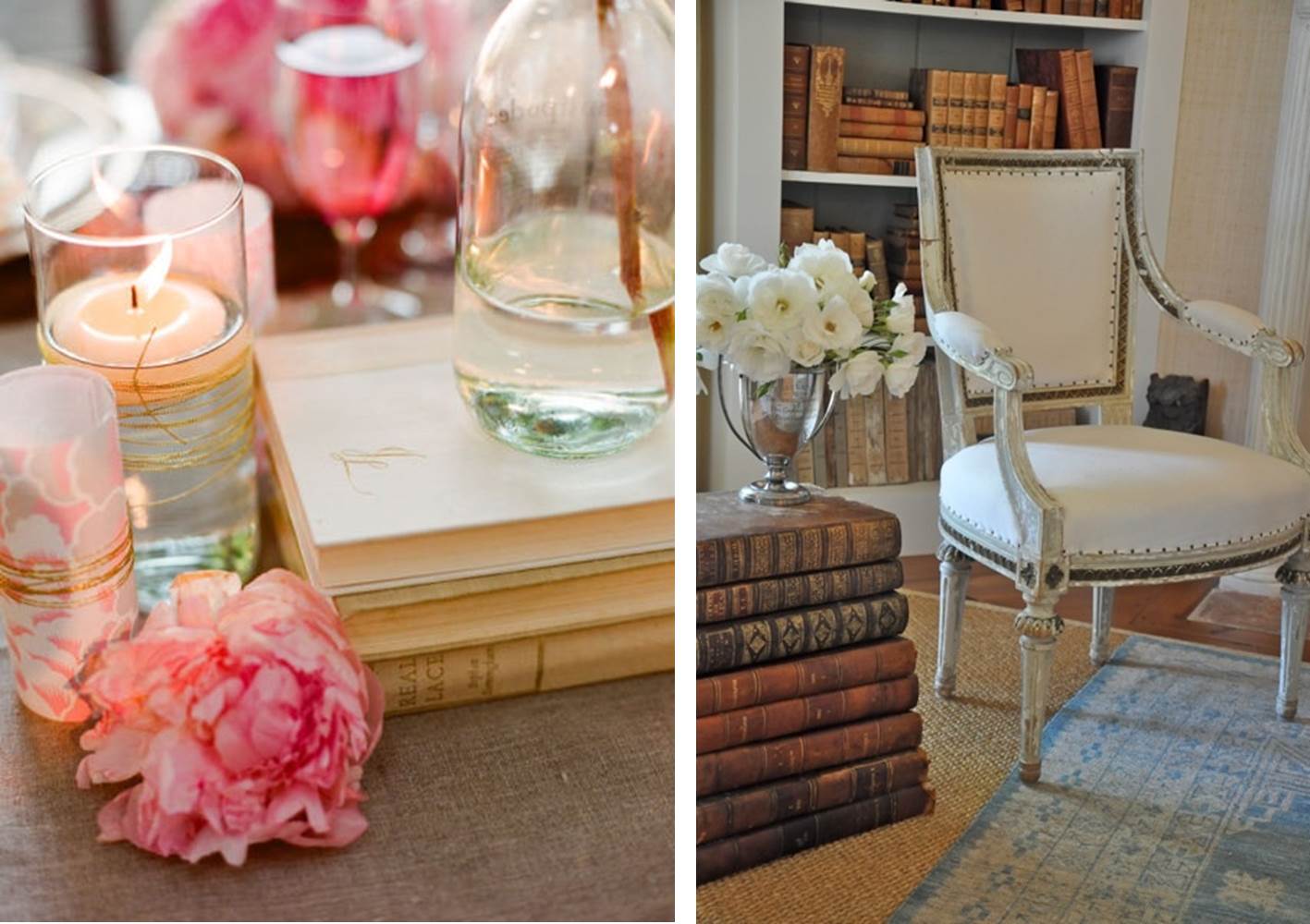 Fotos vía Style Me Pretty y Desert Girls Vintage
En casa no nos equivocaremos  si llenamos librerías y estanterías con libros, a mi me encanta un tipo de balda "invisible" que dan un  efecto precioso como el de la foto que os muestro a continuación.
At home we won´t fail if fill book shelves with books, I love a kind of "invisible" shelve which give a pretty effect such as this I show in the photo bellow.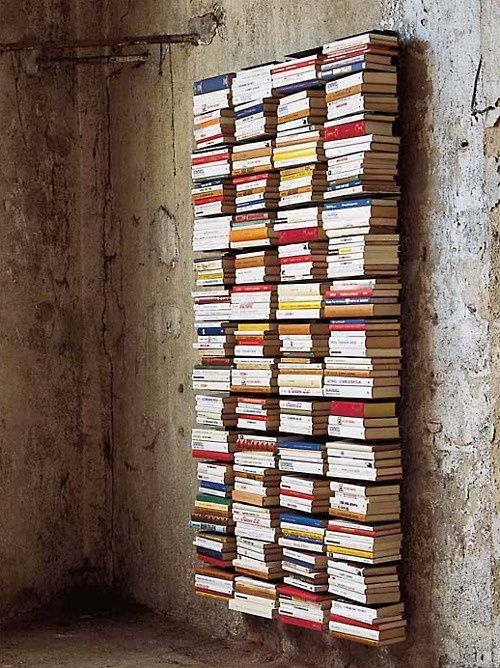 Foto vía Sunlit Spaces
Por supuesto apilar libros en el suelo y que nos sirva de mesita auxiliar si son de gran formato o usarlos como base para una lámpara o un jarrón nunca falla. También nos pueden servir como inspiración para adornar algunos lugares por lo general ausentes de decoración como por ejemplo una escalera, ¿qué os parecería pintar en cada  tabica  el título de uno de vuestros  libros favoritos de la infancia?
Of course piling up books on the floor and use them as a table if they're big or as a base for a lamp or a vase never fails. They also can be the inspiration to ornament some places that we don't use to decorate as the stair-cases. What about painting each of the steps with your favourite childhood books?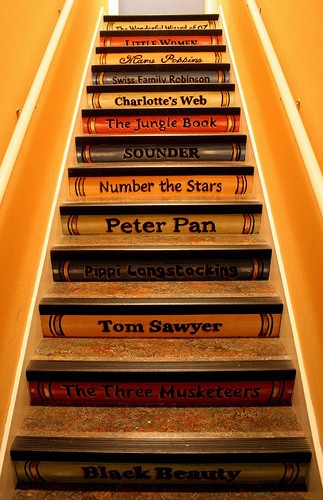 Foto vía Sunlit Spaces
Y como estamos en primavera, qué os parece este pequeño proyecto craft que consiste en  decorar unas macetitas con páginas de algunos libros y después colgarlas de una lámpara, el resultado es precioso!!
And so we are on Spring what do you think about this beautiful crafty Project which consits on decorate some pots with some book pages and after this hang it from a chandelier, georgeous!!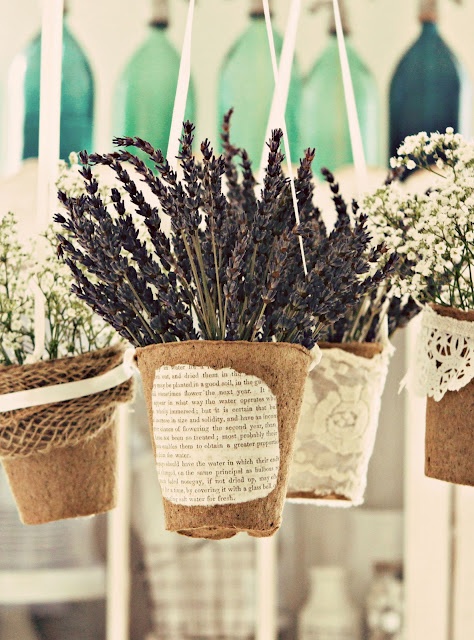 Foto vía French Larkspur
Como objeto decorativo, los libros se están poniendo de moda en las bodas, muchas veces mezclados con máquinas de escribir antiguas y otros elementos vintage. En los centros de mesa de utilizan como base para jarrones, tarritos, velas…, pero también se hacen cosas más originales como cajitas para las alianzas, pequeñas jardineras, banderines hechos con sus páginas o incluso tartas con la forma de una pila de libros.
As a decorative objetc, books are a fashionable element, many times combined with a typewriter and other vintage things. In the centrepieces are use such as a base for the vases, jars, candles…, but there are other original ways to use them such as Little boxes or pillows for the rings, pots, garlands or cakes with the shape of a pile of books.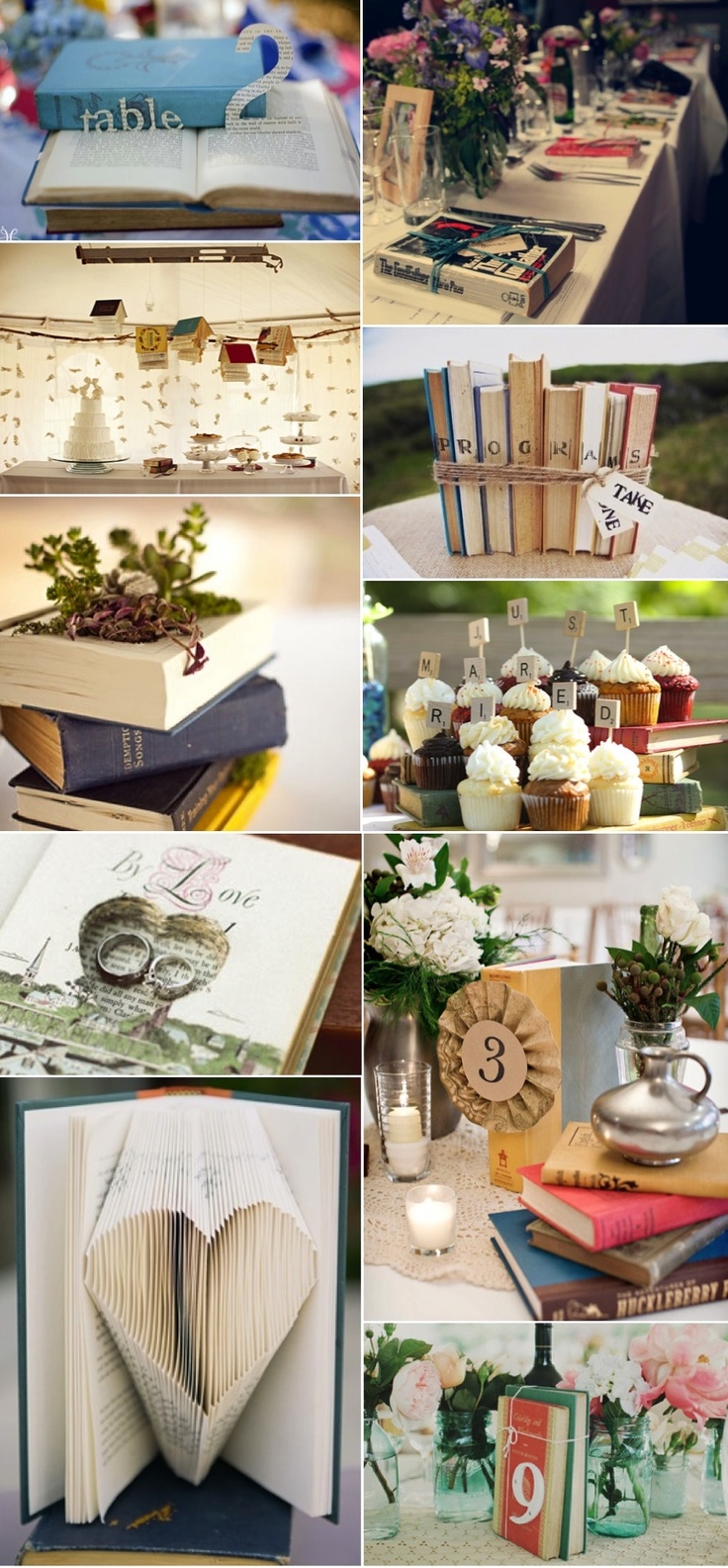 Foto vía A Kiss of Colour
Espero que os haya gustado y que os animéis a poner libros en  vuestra casa, vuestra boda y vuestra vida y si queréis que os ayudemos a hacerlo no dudéis en poner en contacto con nosotros.
Haciendo clic aquí encontraréis más ideas estupendas.
I hope you have enjoy it and you dare to put a book at your home, wedding and in your life. If you want us to help you to do it, please do not hesitate on contact us.
Clicking here you find much more pretty ideas.