January 28, 2013 in Bodas, Bridal Shower, Decoracion, Decoration, Eventos, Weddings
<<Qué coman pasteles>>, con esta frase atribuida por algunos a María Antonieta en respuesta a la queja de los campesinos franceses por la falta de pan, queda clara su personalidad caprichosa y despreocupada. Su estilo inspirado en el refinamiento del Rococó , un arte frívolo propio de la aristocracia dieciochesca que disfrutaba de la vida, ajena a lo que se les venía encima,  nos sirve de hoy de inspiración para Bridal Showers, Tea Parties e incluso bodas.
"Let them eat cake" , with this phrase attributed to Marie Antoinette by some authors  in response to the complaint of the French peasants because of the lack of bread, it is clear her whimsical and carefree personality. Her style inspired by the refinement of the Rococo, a frivolous art of the eighteen century  aristocracy  who enjoyed life, oblivious to what was awaiting them, today serves us as inspiration for Bridal Showers, Tea Parties and even weddings.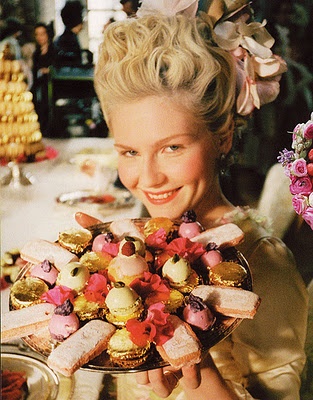 Kirsten Dunst como María Antonieta. Año 2005
Las plumas, los espejos, las lámparas de araña, los colores peladilla y por supuesto  las tartas haute couture son los imprescindibles para crear un ambiente propio de la reina.
 Feathers, mirrors, chandeliers, pastel colours and of course  haute couture cakes are essential for creating the right mood for the queen.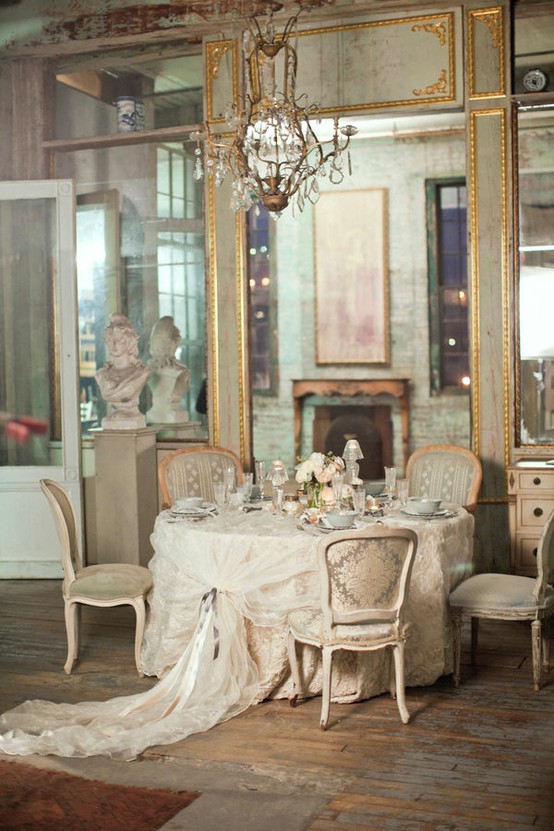 Foto vía Style Me Pretty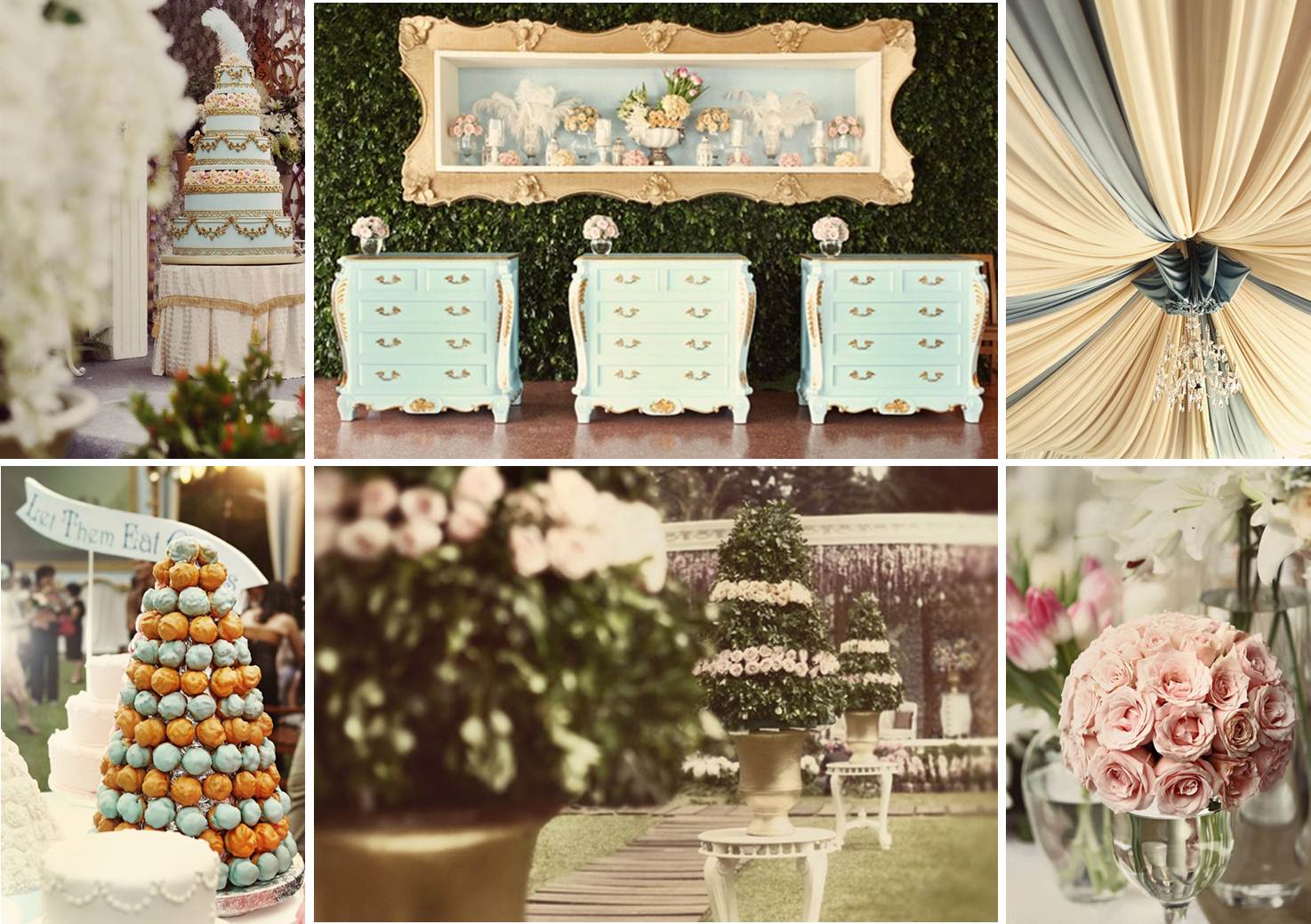 Fotos vía Rock N Roll Bride
Para comenzar los preparativos de cualquier boda o bridal shower estilo María Antonieta no se me ocurre nada mejor  que una pedida de mano en la que el anillo esté dentro de una cajita de macarons, un dulce  que  en el siglo XVIII era exclusivo de Versalles.
To begin preparations for any wedding or bridal shower Marie Antoinette style I cannot think of anything better than a betrothal in which the ring is inside a box of macarons, a sweet that in the eighteenth century was exclusive of Versailles.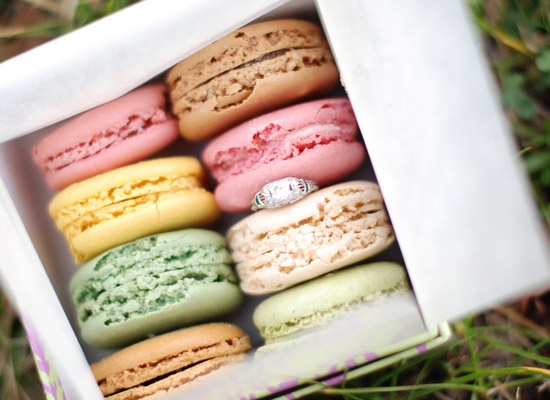 Foto vía Wedding Bee
Si lo que queremos es poner un poco de glamour en nuestras vidas protagonizar una sesión de fotos como esta que os muestro a continuación con  el toque decadente y exagerado de las joyas, las máscaras y el dorado puede ser  una alternativa perfecta a las clásicas fotos más románticas y sencillas.
If we want to put a little glamor in our lives be the star in a photo shoot like this  I show with the decadent touch of the exaggerated jewelry, masks and gold can be a perfect alternative to the classic photos more romantic and simple.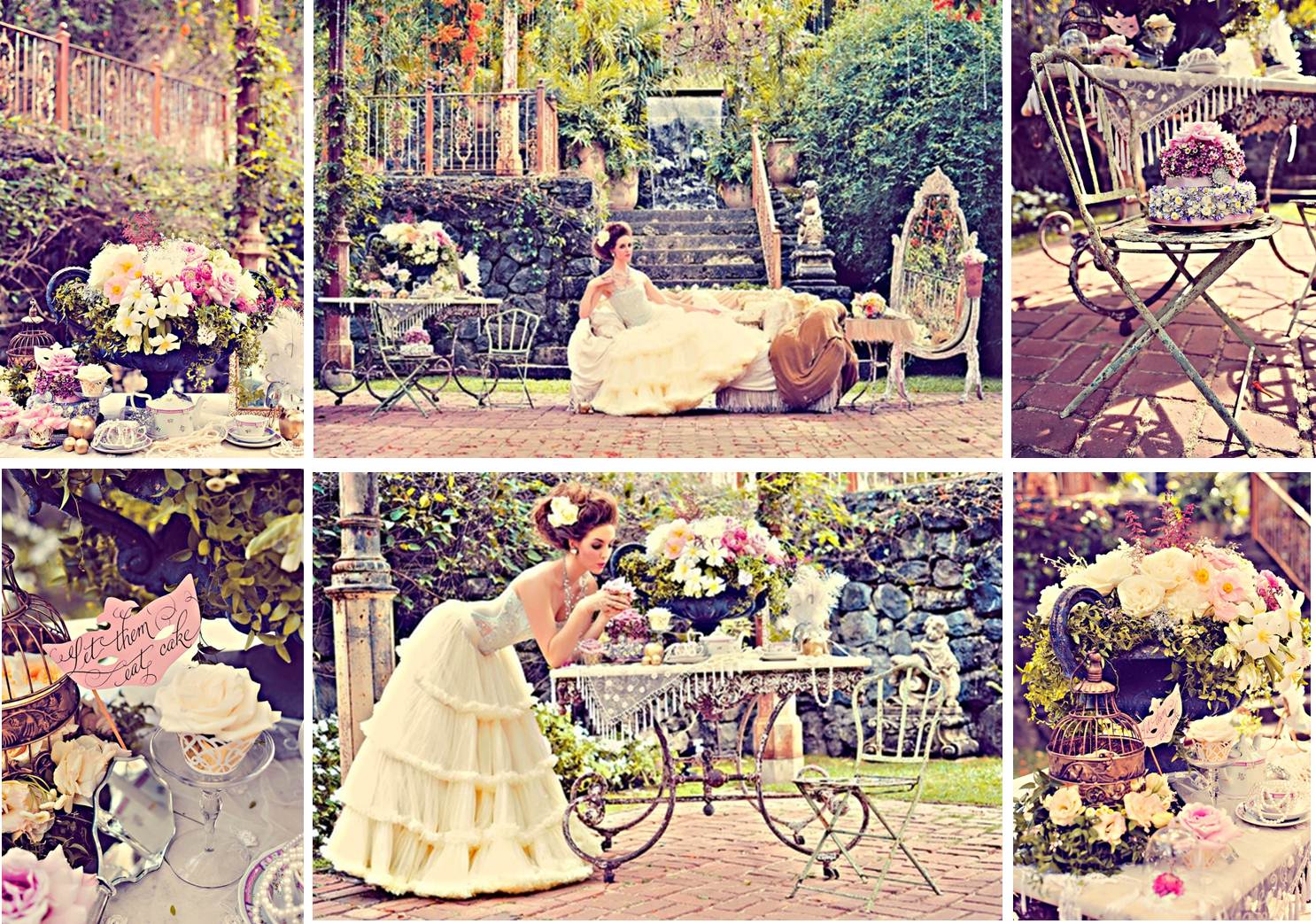 Fotos vía Rock N Roll Bride
Pero si para algo es perfecto el estilo Mara Antonieta como decíamos al principio es para una bridal shower estilo tea party.
But if something is perfect to use the Marie Antoinette style, as we said at the beginning, is  a bridal shower tea party style.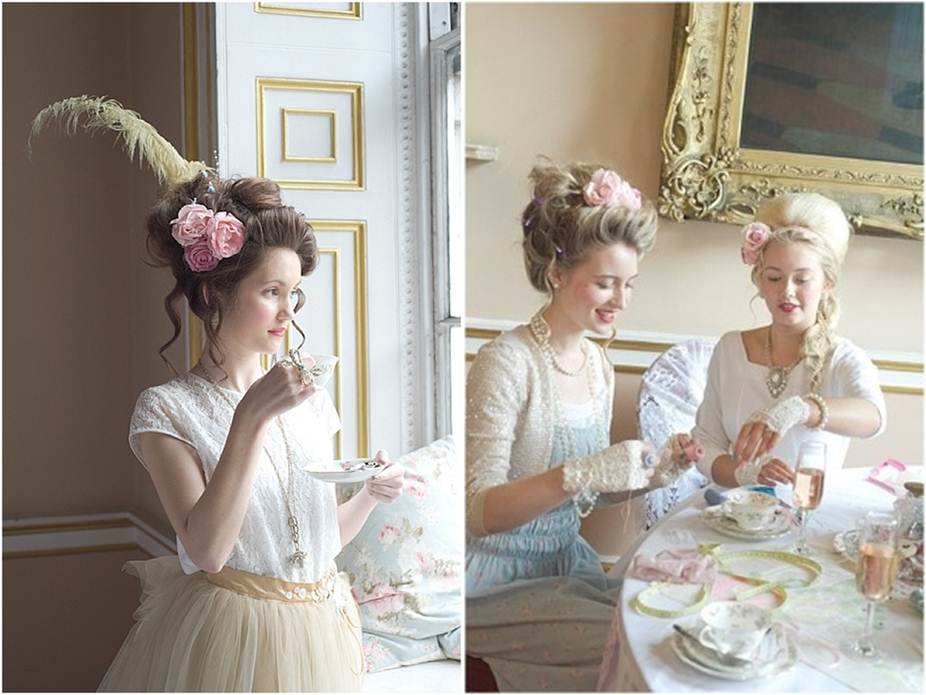 Fotos vía Want that Wedding
Y si no os atrevéis con un total look de este estilo, ¿qué os parece un tocado especial o un ramo con charms? conseguireis ese perfecto e imprescindible toque glamuroso.
And if you don´t dare with a total look of this style, what do you think about using special headdress or a bouquet with charms? you´ll get that perfect and indispensable touch of glamor.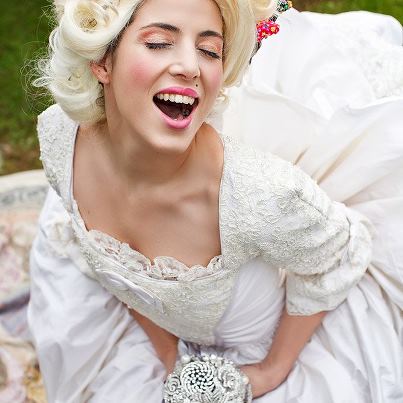 Foto de Tag Fotografía para Something Old con ramo de B de Blanca
y tocado de Bibiana la Lía
El mundo Maria Antonieta me ha fascinado siempre pero todavía más desde que nos sirvió de inspiración para un evento que decoramos en un palacio madrileño ya de por sí muy dieciochesco en el que, entre otras muchas cosas proyectamos en las paredes de la escalinata la película de Sofía Coppola, de modo que los invitados se sentían inmersos en la atmósfera de la época.
Marie Antoinete´s  world has always fascinated me but even more since it inspired us to decorate an event in a  palace in Madrid in which, among other things we projected on the walls of the stairway the Sofia Coppola´s film, so that the guests felt immersed in the atmosphere of the time.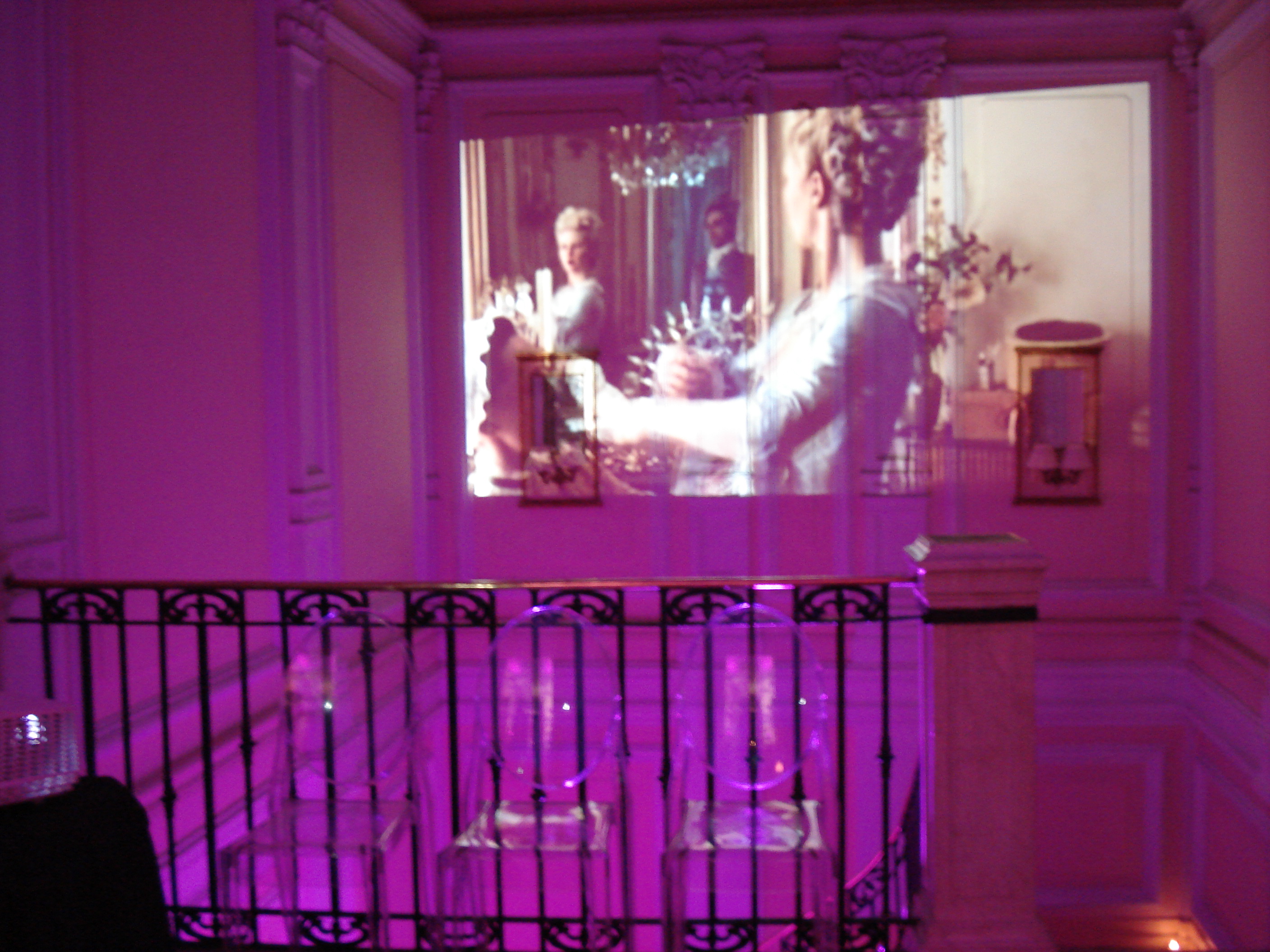 Foto Pretty Places
Y si después de todas estas inspiradoras  imágenes todavía quieres ver más, haz click aquí y si quieres que te ayudemos a preparar y decorar tu boda o bridal shower inspirada en María Antonieta no dudes en ponerte en contacto con nosotros.
If after all these magic pictures still want to see more, click here and if you want us to help you to prepare your  wedding or bridal shower inspired in Marie Antoinette please do  not hesitate to contact us.