April 1, 2013 in baby shower, Decoracion, Decoration
El post de esta semana se lo vamos a dedicar a un tema aún más bonito, si es que es posible que las bodas, las baby showers, me encantan porque en ellas nada es demasiado tierno ni demasiado pastel . La costumbre de las baby showers, como tantas otras, es anglosajona, generalmente se hace antes de que nazca el bebé aunque en algunos sitios prefieren esperar a después y el objetivo es hacer regalos útiles a los padres. Antes era una fiesta solo para mujeres pero ahora se hace para toda la familia y los amigos.
This week our post is dedicated to a prettier topic than weddings, if this is possible, the baby showers, I'm absolutely in love with them because for them there is anything  too much tender or sweet. This habit, as other, is anglosaxon, the common way of celebrate them is doing it before the baby's birth but in some places people prefer doing it after it. The objective of it is to give useful presents to the parents. Some time ago it was only a party for women but now all the family and friends are invited to it.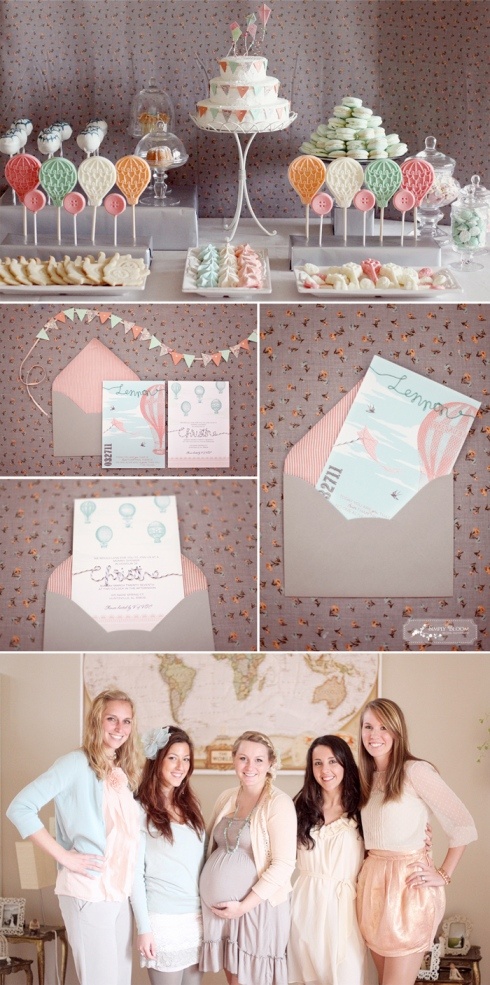 Foto vía The Eclectic Life
Por supuesto la inversión en la organización no tiene nada que ver con la de la boda, la fiesta se suele hacer en casa, solo nos hace falta un poquito de decoración, un sweet point que será el centro de atención de todos los invitados y unas invitaciones bonitas.
Of course the budget for the organization is not as big as for the wedding, the party is usually celebrated at home, there is only needed a bit of decoration, a sweet point, which will be the centre of everybody's  looks and pretty invitations and stationery.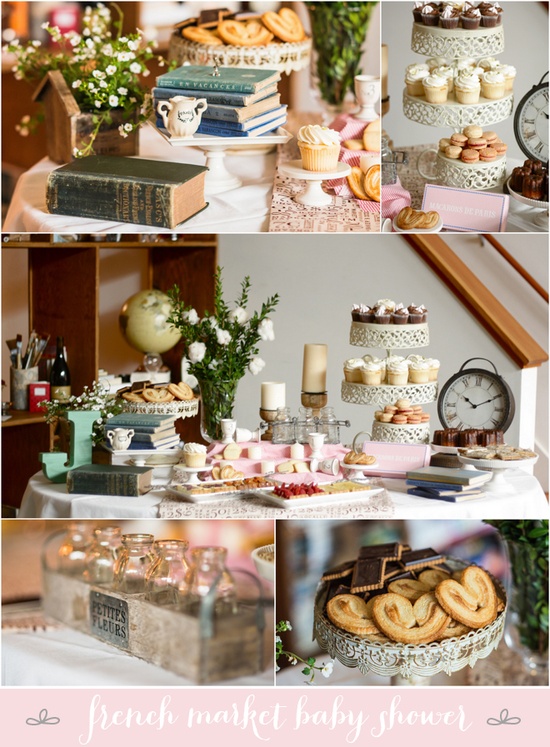 Foto vía Pizzazzerie
Podemos aprovechar para hacer cosas que en la boda no pudimos como por ejemplo hacer una baby shower temática, inspirada en un mercadillo francés, en desayuno con diamantes o incluso en el deporte favorito de la pareja.
We can do what we couldn't in our wedding as a thematical baby shower, inspired in a french market, in Breakfast at Tiffany's or even in the couple's favourite sport.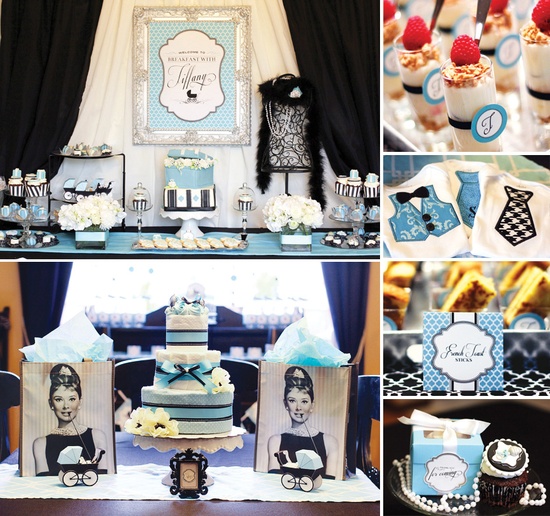 Foto vía Hosstess with the Mostess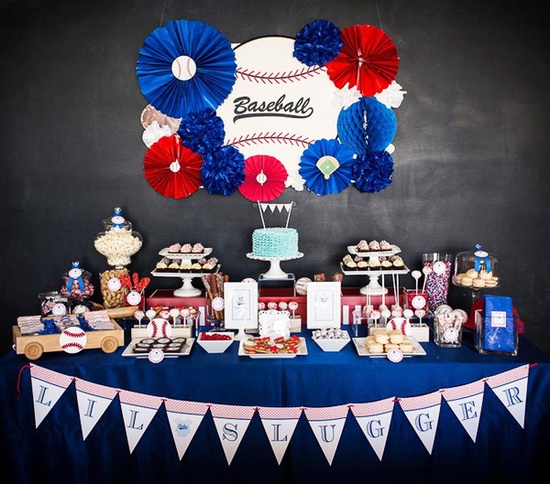 Si podemos hacerla en un jardín la decoración inspirada en la naturaleza es perfecta, las casitas de pájaro, las jaaulitas y los nidos son un tema muy recurrente que siempre queda precioso.
If we could do it in a garden, the nature decor inspiration is perfect, the bird houses, the cages and the nest are a very usual topic and it is always beautiful.
Fotos vía Onto Baby
La comida habitual en una baby shower es dulce, tipo tea party, con  cupcakes con toppers diseñados para la ocasión, galletas con formas de animalitos, carritos de bebé, chupetes, etc, popcakes, tartas y golosinas formando un precioso sweet point y el entretenimiento principal charlar, sugerir nombres para el futuro bebé, jugar a algún juego como el que os propongo más abajo y abrir los regalos, aunque claro, esto es libre y cada uno busca la actividad que más le guste o le apetezca.
In a baby shower the food uses to be sweet, as in a tea party, cupcakes with pretty toppers designed for the occasion, biscuits with little animals, baby strollers or pacifier shapes. The way to pass time is chat, suggest names for the baby, play some game as the one I show you down and open the presents but actually you're free to do what you want.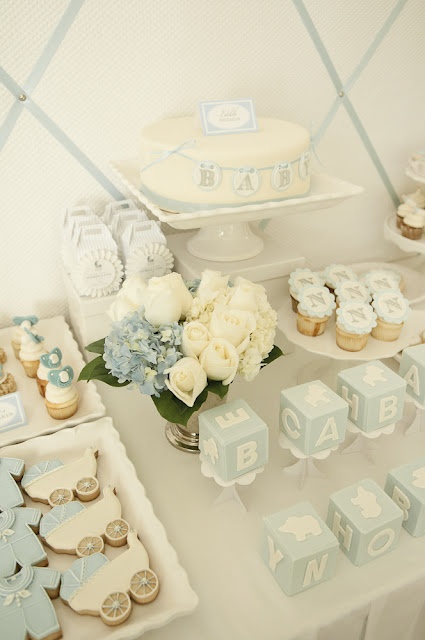 Foto vía Kate Landers Events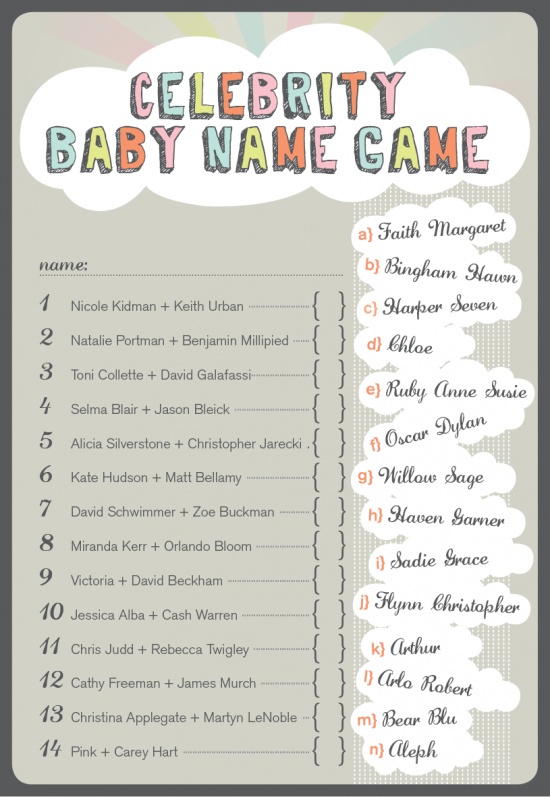 Foto vía For the love of George
Como regalo para vuestra baby shower os dejo los enlaces para que podáis imprimir gratis   preciosas invitaciones, cake toppers, banderines y la plantilla para el juego de los bebés de famosos.
As a present for your baby shower I leave you the links for free printable stationery, invitations and the celebrity baby name game.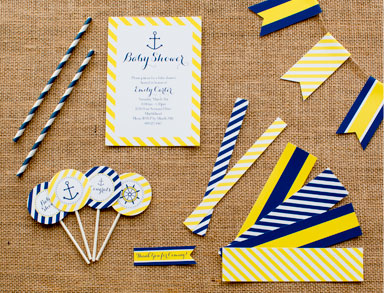 http://www.potterybarnkids.com/design-studio/invitations/anchors_away_templates.html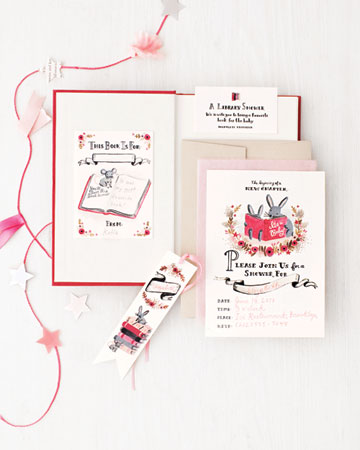 http://www.marthastewart.com/341491/a-book-themed-baby-shower/@center/276963/baby-shower-ideas#339496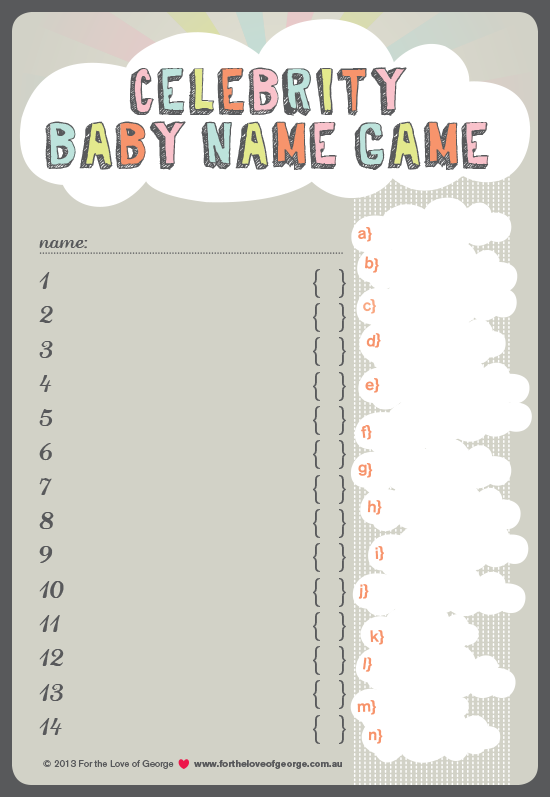 http://www.fortheloveofgeorge.com.au/archive/baby-shower/
Espero que todas estas ideas os ayuden a decidir qué tipo de baby shower queréis celebrar y si lo que necesitáis es que os ayudemos a organizarla y decorarla no dudéis en poneros en contacto con nosotros.
Para ver todas estas preciosas  imágenes y muchas más  haced  click aquí.
I hope all this ideas will help you to decide what kind of baby shower you want to celebrate and If what you need is help with the organization and decoration please do not hesitate on contact us.
To see all this pretty images and much more clic here.
Por cierto si os habéis quedado con las ganas de saber si habéis acertado o no el juego de los bebés de famosos las respuestas son:
1:A; 2:N; 3:L; 4:K; 5:M; 6:B; 7:D; 8:J; 9:C; 10:H; 11:F; 12:E; 13:I; 14:G
By the way if you have left with the desire to know whether or not you were successful in the  celebrity baby name game here you are the answers:
1:A; 2:N; 3:L; 4:K; 5:M; 6:B; 7:D; 8:J; 9:C; 10:H; 11:F; 12:E; 13:I; 14:G