January 3, 2013 in Bodas, Decoracion, Decoration, Weddings
 Dedicamos este primer post de 2013 a una de las tendencias top de este año para bodas, las de inspiración Art Déco, un estilo decorativo propio del período del entreguerras (1919-39) originado  en París, Hollywood lo adoptó como el estilo propio de las estrellas y lo universalizó como símbolo de glamour. Supo sintetizar las diferentes vanguardias como el  Art Nouveau, la Bauhaus el Cubismo o el Futurismo con la antigüedad como por ejemplo el arte egipcio  dando  como resultado un estilo geométrico y rectilíneo propio de algunos edificios icónicos de la época como el Chrysler de NY.
We dedicate this first post of 2013 to one of the top trends for weddings this year, the Art Deco-inspired, a decorative style typical of the interwar period (1919-1939) originated in Paris, Hollywood adopted it as the style of the stars and universalized as a symbol of glamor. It knew how to synthesize the various vanguards such as Art Nouveau, Bauhaus Cubism or Futurism with such ancient Egyptian art resulting in a geometric and rectilinear style characteristic of some iconic buildings as the Chrysler in NY.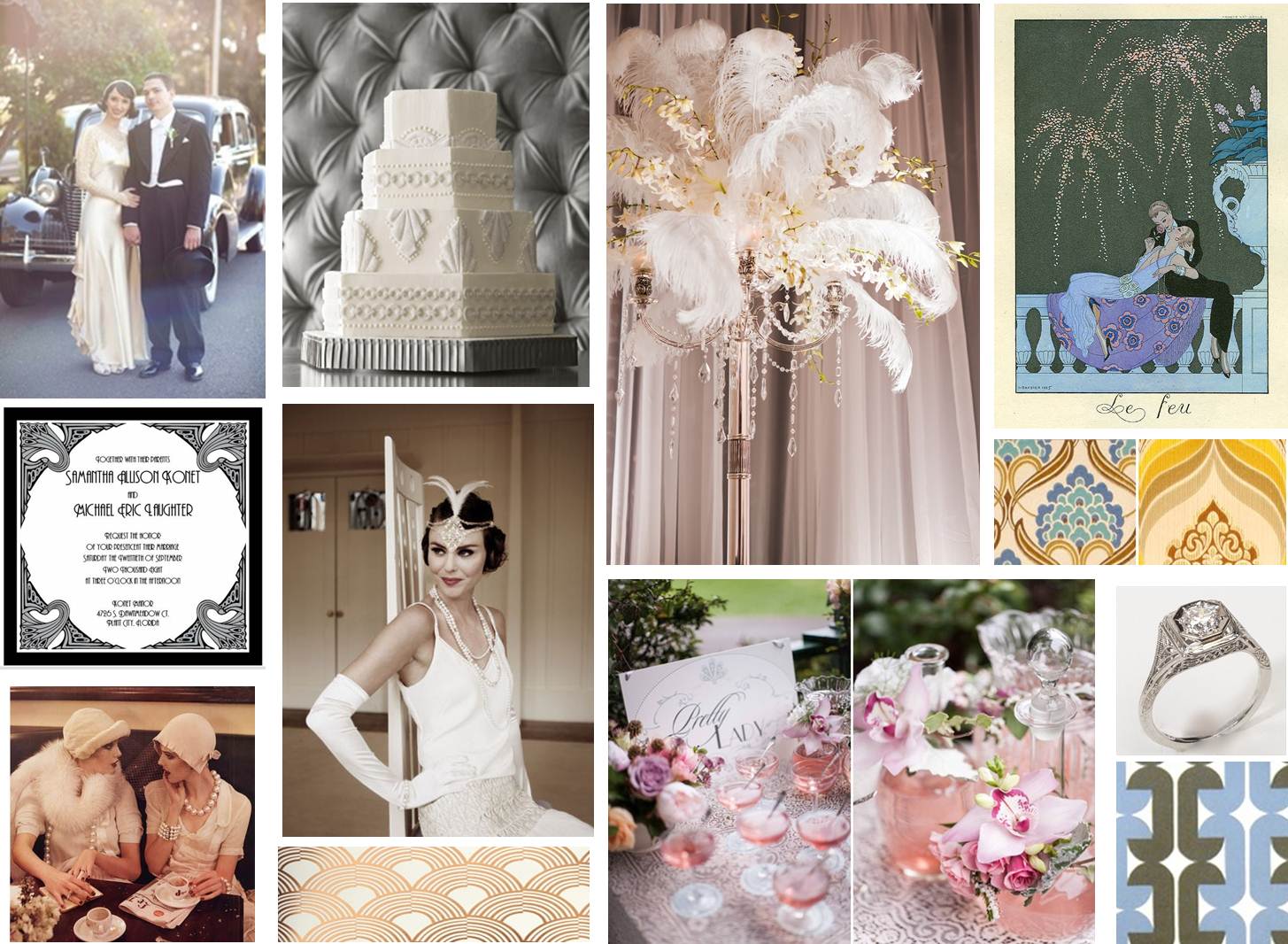 La inspiración principal de este  año viene de la mano de El Gran Gatsby con motivo del remake de la película:  plumas,  perlas y  tiras de strass inundarán de glamour el ambiente. El espíritu de los felices años '20, de los  gangsters y el cabaret llega al mundo de las bodas, desde los vestidos, las joyas y los zapatos hasta la decoración.
The main inspiration this year comes from The Great Gatsby due to the remake of the movie: feathers, pearls and strass straps flood the environment  of glamor. The spirit of the Roaring '20s, the gangsters and cabaret comes to the world of weddings, from dresses, jewelry and shoes to the decor.
Modelo Albania de la colección Mademoiselle Vintage de Yolancris
Los vestidos de novia abandonan los grandes volúmenes y los escotes, priman las cinturas bajas y  la riqueza se concentra en los tejidos donde encontramos encajes, plumas y pedrería que vemos también en los tocados que toman la forma de bandas y turbantes.
Wedding dresses  leave the large volumes necklines, low waists prevail and wealth is concentrated in the tissues where we found lace, feathers and rhinestones we see also in the headdresses that take the form of bands and turbans.
El glamour en una boda de este tipo se transmite desde el momento en el que se eligen las invitaciones, las tipografías son las típicas de los  años 20-30 y los patrones de diseños geométricos o las imágenes de  los carteles y portadas de revistas de la época son algunas de las ilustraciones que podemos emplear.  Las cortadas con láser aparte de ser muy originales son también una de las  tendencias de este año.
The glamor in a wedding of this type is transmitted from the time when the invitations are chosen, typefaces are typical of the years 20-30 and geometric designs patterns or images of posters and magazine covers of the period are some of the pictures that we can use. The laser-cut apart from being very original are also one of the trends this year.
Junto con la decoración a base de  plumas los elementos vintage como los gramófonos o  las máquinas de escribir son perfectos para pequeños rincones como por ejemplo la mesa de firmas. Las torres de copas de estilo francés de champagne ( no de flautas) tan típicas de los clubs del Hollywood de la época vuelven a estar de moda este año.
Along with feather decoration, vintage items like gramophones or typewriters are perfect for small places such as the signing table. Towers of french champagne glasses (flutes not) so typical of Hollywood clubs of the era are back in fashion this year.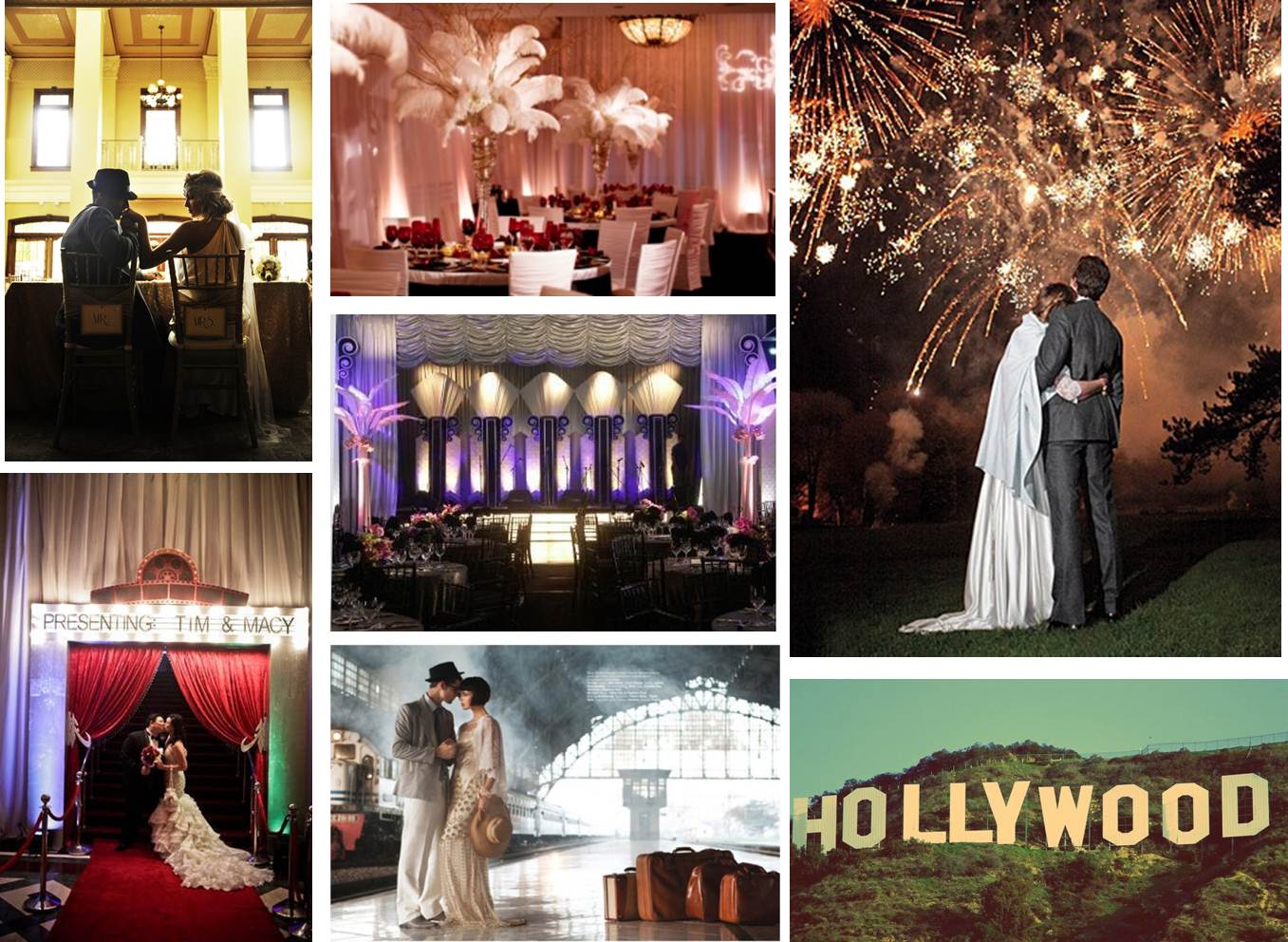 Un rascacielos, una casa con vistas a la colina de Hollywood, un antiguo club o un cine vintage son alguno de los perfectos emplazamientos para una boda años '20 llena de glamour pero si no podemos contar con un lugar como ese no importa, podremos recrearlo en cualquier parte, esto es Hollywood!!!
A skyscraper, a house overlooking the Hollywood Hill, a  vintage club or cinema are some of the perfect places for a wedding glamorous '20s but if we can not have a place  like that does not matter, we can recreate anything anywhere , this is Hollywood!!!
Si después de todas estas mágicas imágenes todavía quieres ver más, haz click aquí y si quieres que te ayudemos a preparar tu boda hollywoodiense  no dudes en ponerte en contacto con nosotros.
If after all these magic pictures still want to see more, click here and if you want us to help you to prepare your  Hollywood wedding please do  not hesitate to contact us.