September 26, 2012 in Bodas, Decoracion, Eventos
Llegó el otoño y con él nos tenemos que olvidar del verano y sus colores frescos y refrescantes para pasar a una estación que nos inspira tonos paja, zanahoria y tostados.
Fall is here and with it we have to forget the summer and its refreshing colors  to go to a season that inspires us straw, carrot and roasted tones.
Los que celebren su boda o cualquier evento en esta preciosa época del año pueden tomar como inspiración para la decoración de su fiesta las flores y frutas características del momento, a nosotros personalmente el otoño nos   hace pensar en castañas asadas, preciosas calabazas y hojas caídas.
For those who celebrate their wedding or event at this beautiful time of the year can take as inspiration for decorate the characteristics flowers and fruits  of the moment, Fall reminds us  roasted chestnuts, pumpkins and the leaves falling.
Foto de Leftstudios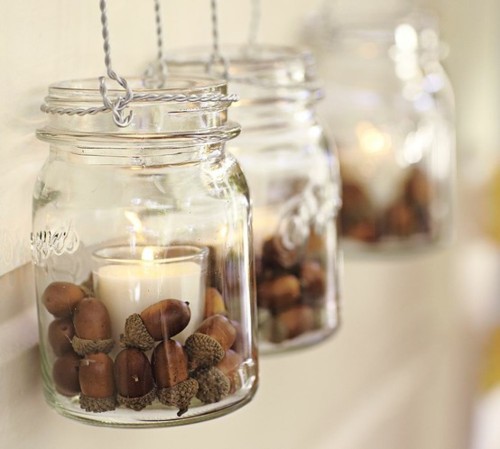 Foto de Seasonal Love
Es un error pensar que solo las bodas en primavera y verano son bonitas, cada estación tiene su encanto y,  de hecho  es el momento ideal para una boda de estilo farm con un aire retro.
It is a misconception that only  spring and summer weddings are beautiful, each season has its charm and this is the perfect time for a farm wedding with a retro style.
Foto de Imgfave
Foto de Ceddarwoodwedding
Si bien ahora lo más probable es que no podamos disfrutar de largas veladas al aire libre lo que si podremos hacer será crear preciosos y acogedores espacios de interior utilizando un gran número de elementos naturales como árboles secos cubiertos de luces, pequeños troncos como pedestales en nuestro Cakes buffet o como base para los centros de mesa, balas de paja como asientos o tejidos tales como lanas, crochet…
 Although now  we are likely  not  able to enjoy long outdoor evenings what we can do is create beautiful indoor  spaces using a large number of natural elements such as dead trees covered with lights, small logs as pedestals in our Cakes buffet or as a base for centerpieces, straw bales as seats and fabrics such as wool, crochet …
Foto de 100 Layer Cake
 Puedes ver más imágenes inspiradoras haciendo click aquí.
Much more inspiring ideas clicking here.