November 22, 2012 in Bodas, Decoracion, Decoration, Eventos, Weddings
Las bodas cambian como cambian las modas y lo que era imprescindible  hace unos años ahora carece de importancia, lo que ahora  está de moda y  nos vuelve locos a todos los que nos dedicamos a esto son las bodas handmade. Weddings change as fashions change and what was essential  few years ago is irrelevant now, what's hot and what drives  crazy to all who are involved in this are handmade weddings.
En este post vamos a descubrir diez elementos imprescindibles para ayudar a  todas las novias que estén pensando en cómo decorar su boda, desde luego hay muchos otros preciosos aparte de los que vamos a enseñar con los que deberemos contar si queremos una boda handmade perfecta. Antes de nada me gustaría recordar que aunque algo esté hecho a mano y parezca aparentemente sencillo, no todos somos capaces de hacerlo y el "día B" no es el mejor para empezar a hacer cosas por primera vez, precisamente el encanto de todo lo que os vamos a mostrar reside en esa aparente simplicidad.
In this post we will discover ten essential elements to help all brides who are thinking about how to decorate their weddings, of course there are many other lovely things apart from that we show that we must have to if we want a perfect handmade wedding. First of all I would like to remember that just because something is handmade and seems deceptively simple, not everyone is able to do and the "day B" is not the best to start making things for the first time, precisely the charm of all that I'll show lies in its apparent simplicity.
Hemos creado este tablero para poder ir abordando cada uno de los elementos siguiendo un orden, no de importancia porque todos tienen la misma sino por cómo nos los vamos a ir encontrando el día de la boda.
We´ve made up  this board to treat each item  in a kind of order, not of importance because they all have the same but by the way we are going to find them the wedding day.
1- Perchas personalizadas: sabemos que este no es un elemento propio de la decoración general de la boda pero si forma parte de la decoración que pondremos en el lugar donde se vista y maquille la novia y donde se hará una de las sesiones de fotos más bonitas de todo el día. Podremos personalizarlas con el texto que queramos.
1 – Custom hangers, we know that this is not a proper element of the overall decor of the wedding but it´s part of the decor of the place where the bride will dress and makeup  and where will be one of the most  beautiful photo sessions. We can customize them with the text we want.
Foto vía Style Me Pretty
2- Señales de madera: en color natural, blanco, rústicas o más sofisticadas, con forma de flecha o rectangulares, se han convertido en un imprescindible sobre todo en las bodas campestres.
2 – Wood post signs: in natural color, white, rustic or sophisticated, arrow-shaped or rectangular, have become a must especially in the country style weddings.
Foto vía Ruffled
3- El photocall o photo booth, de los que ya hablamos en uno de nuestros post, se puede crear un pequeño ambiente, poner unas puertas viejas o colgar un telón, el caso es tener un lugar donde hacer divertidas y memorables sesiones de fotos.
3 – The photocall or photo booth, of which we wrote in one of our post, you can create a small room, put some old doors or hang a curtain, the case is to have a place to take fun and memorable photo shoots.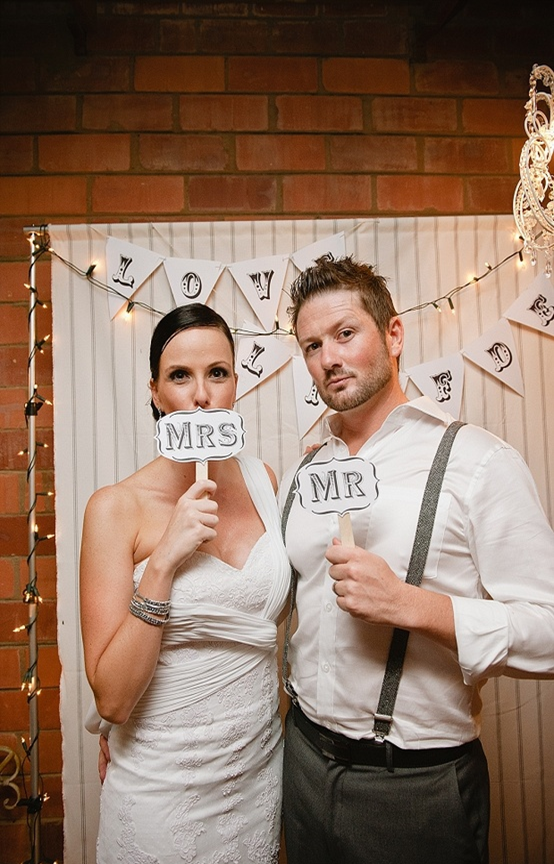 Foto vía The Pretty Blog
4- Las bolas de panal, farolillos y pompones de papel se pueden colgar haciendo grupos o  en tiras, las bolas pueden colocarse para marcar las filas en la ceremonia, los pompones para hacer preciosas traseras de flores y los farolillos para iluminar la fiesta combinados por ejemplo con lucecitas de feria.
4 – honeycomb balls, pompoms and paper lanterns can be hung by groups or strips, the balls can be placed to mark the rows at the ceremony, the pompoms creating a wall of precious flowers and the lanterns to illuminate the party combined by  fairground lights.
Foto vía Too Stinkin´Cute
5- Banderines: un elemento muy anglosajón propio del mundo infantil que ha pasado a convertirse a básico en las decoraciones de fiesta, con estampados o lisos con textos puedes basar la decoración de toda la boda en ellos o poner un pequeño detalle.
5 – Flags: are very Anglo-Saxon world's tipical of  the children world has gone on to become a staple in party decorations, patterned or plain with texts, you  can base in them your whole wedding decoration or put only a little detail.
Foto vía Love and Chocolate Weddings
6- Pizarras para dar la bienvenida, indicar el menú o dónde se sienta cada invitado, nos las encontraremos incluso enmarcadas en molduras clásicas.
6 – Slates are use to welcoming the guests, to write  the menu or to indicate where each guest is sitting, we will find them even framed in classic moldings.
Foto vía Nick and Mollies Weding
7- Cartelitos: para marcar las mesas, los asientos, indicar qué es cada cosa en la candy bar… Pueden ser estampados, pintados a mano, sobre papel, de nuevo sobre pequeñas pizarritas, etc.
7 – Little posters: to identify the tables, seats, to indicate what's what in the candy bar … They can be printed, painted by hand on paper,  on small slates, etc..
Foto vía Factory Direct Craft
8- Cakes buffet-candy bar: en una boda no puede faltar la tarta nupcial pero tampoco los cupcakes, popcakes, cookies con formas de vestidos de novia por ejemplo ni las carameleras llenas de dulces.
8 – Cakes buffet-candy bar: a wedding is not a wedding without the wedding cake and now it needs too  cupcakes, popcakes, cookies shaped in  wedding dresses and lots of bottles full of of candy.
Foto vía The Sweetest Ocassion
9- Maletas vintage: toca recuperar las maletas antiguas que tengan nuestros padres y abuelos en casa para utilizarlas  por ejemplo para meter las bailarinas que les demos a nuestras invitadas para el baile; después de eso podremos utilizarlas en casa para decorar cualquier rincón, quedarán genial.
9 – Vintage Suitcases: now we have to recover old suitcases that our parents and grandparents had at home to use them for example to put the dancers that we give to our guests for dancing and after that we can use them at home to decorate, will be great .
Foto vía The Brides Cafe
10- Por último y no por ello menos importante, es el momento de agradecerle a nuestros invitados que hayan venido y qué mejor que un regalo hecho con el corazón? mermelada, miel, galletas, jabones… de aspecto casero, prepradas con lazos, encajes y  etiquetas personalizadas.
10 – Last but not least, it's time to thank our guests for coming and what better than a gift made with the heart? jam, honey, biscuits, soaps … homemade-looking,  with ribbons, laces and customized labels.
Foto vía Style Me Pretty
Con estos diez imprescindibles tendrás una boda absolutamente handmade pero si te has quedado con ganas de ver más haz clic aquí.
Si te ha gustado este post y necesitas ayuda crear una boda así de bonita  cuenta con nosotros.
With these ten must have you will have an absolutely handmade wedding but if you've been wanting to see more click here.
If you enjoyed this post and need help to create a beautiful wedding, count on  us.