May 6, 2013 in Bodas, Decoracion, Decoration, Eventos, Weddings
Ya estamos en mayo y hace un tiempo estupendo para aprovecharlo y salir fuera. A los que tenéis terraza o jardín os dedicaremos un post especial para ayudaros con su decoración, pero hoy las ideas van dirigidas a todos los que se casan o celebran alguna fiesta o evento en los próximos meses y van a hacerlo en una finca, una casa particular o cualquier espacio con jardines en los que no puede faltar un chill out o lounge area.
We are in May, the sun rises and the weather is warm so we´ve to take advantage of it and go out. To whom who has a terrace or a garden I ought you a post to help you with the decoration and the rehab, but today the ideas are guided to whom are getting married or are going celebrate a party the forward months and are going to hold it in the country, their houses or wherever a place with a garden, a chill out or a lounge área is a must have and is all the rage.
Foto vía Caroline Tran
 A veces cuando pensamos en una zona chill out pensamos en un tipo de mueble ibicenco, en camas balinesas y en un estilo de música muy concreto, pero para nada tiene que ser así, se trata de una zona con sitios para sentarse, pueden ser sofás o cualquier otra cosa, mesas y todo lo que queramos poner para que la gente que no quiere o no puede estar de pie durante toda la fiesta se relaje y se siente tranquilamente a disfrutar del buen tiempo y la buena compañía. No hay que dudar en poner sofás por ejemplo de estilo Chester o butacones clásicos en el exterior, dejaron de ser exclusivos de las zonas lounge de interior hace mucho tiempo.
Sometimes when we think about a chill out we imagine a kind of place with Ibiza furniture, Balinese beds and a very special style of music but it doesn´t need to be this way. A lounge area is a place with places to sit down, they can be sofas or whatever we want to be comfortable in order to let people who don´t want  o  couldn't stand on their feet could be relax and enjoying. Please do not doubt on use Chester sofas o classic chairs outdoors, they left being only for indoors a long time ago.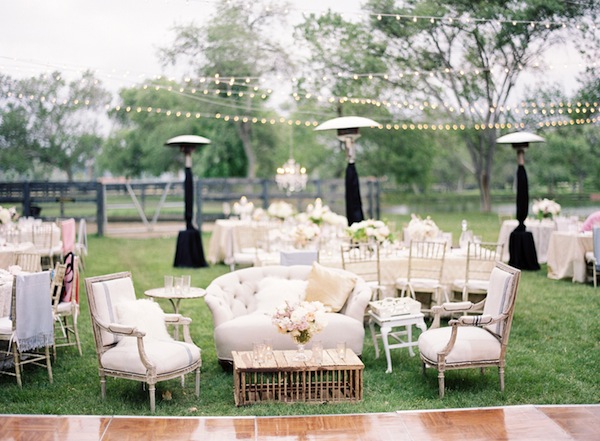 Foto vía Heart Love Weddings
No es necesario que tengamos un espacio enorme para el chill out, ni que haya asientos para todos los invitados, con crear uno o dos puntos será suficiente y podremos darles uso tanto a la hora del cóctel como durante la fiesta y las copas.
There is neither necessary to arrange a very big place for the chill out nor to dispose seatings for everybody, it's enough with one or two lounge areas and we could use them as well during the cocktail or the party.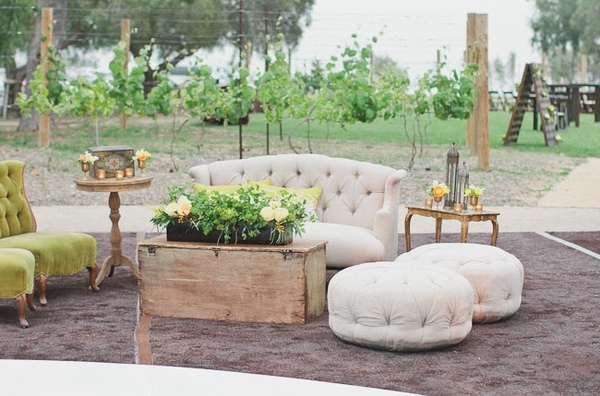 Foto vía Pinterest
Pero del mismo modo que  cada evento es y debe ser diferente y especial el chill out también debe serlo y el estilo del mobiliario será diferente o incluso por qué no, podremos sustituir los sofás por cojines y alfombras.
As the same way that each party and wedding is different and special the chill out should be and the furniture style should be different  and why not we can substitute the sofas with pillows and carpets.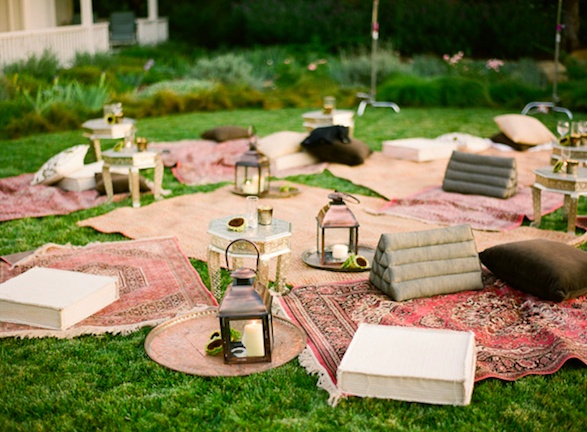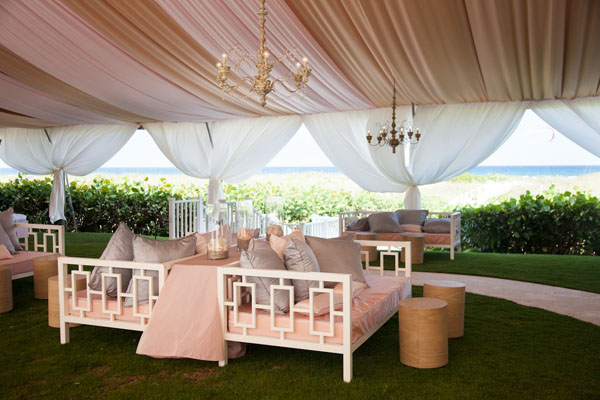 Foto vía Samuel Lippke
Si os habéis quedado con ganas de ver más ejemplos de chill out podéis ver más aquí y por supuesto si queréis que os ayudemos a organizar y decorar vuestra lounge área y toda vuestra boda o evento no dudéis en contactar con nosotros.
If you want to watch more chill out examples click here and if you want us to help you to organize your wedding, please do not hesitate on contact us.