July 13, 2013 in Bodas, Decoracion, Decoration, Eventos, Weddings
Adoro los picnics, los manteles de cuadros, las cestas de mimbre y los cubiertos de madera y, además me parece una forma perfecta de celebrar una fiesta o una boda.
I love picnics, the checkered tablecloths, the wicker baskets and the wood ware. Apart from this, I also think taht this is a perfet way to celebrate a party or even a wedding.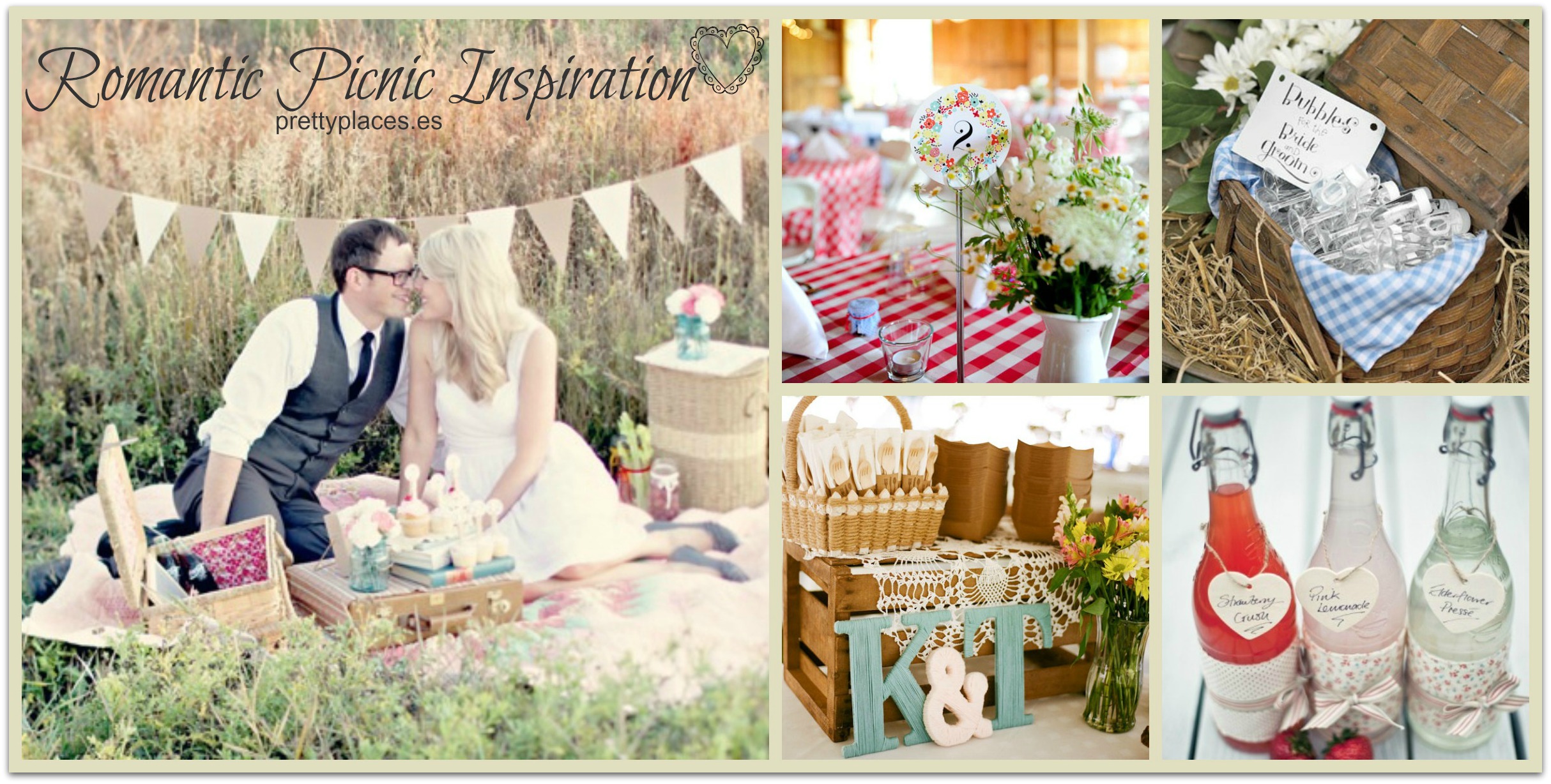 Si lo que buscamos es una celebración alegre, nada encorsetada, en la que la gente vaya a divertirse y  a disfrutar de la compañía un picnic es la forma perfecta de conseguirlo y os aseguro que todos vuestros invitados lo recordarán siempre.
Existen muchos estilos de picnic, podemos hacer una comida campestre sentados en el suelo sobre una manta o mantel de cuadros, con platos y cubiertos de madera, ahora los hay preciosos y con unas decoraciones ideales, o elegir una opción diferente, algo folk, con mesas y manteles estampados o usando preciosas colchas de patchwork para vestirlas y una bonita vajilla de flores estilo vintage y unas preciosas copas de cristal.
If we are looking for a nice celebration, not too much serious, where people go to enjoy the party and the company, a picnic would be the best option to achieve it. I can assure that all your guests will adore it.
There are too many picnic styles, we can make a country meal, sitting on the groun on a blanket or a tablecloth, with tableware made with wood, now you can find a great variety of them, with beautiful patterns. You can also choose a different option, something folk, with tables and tablecloths or use a pretty patchwork bedcover as a tablecloth, with gorgeous tableware with flowers and beautiful cristal glasses.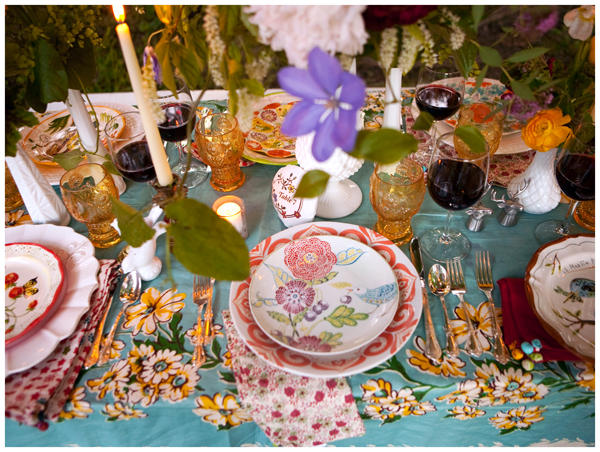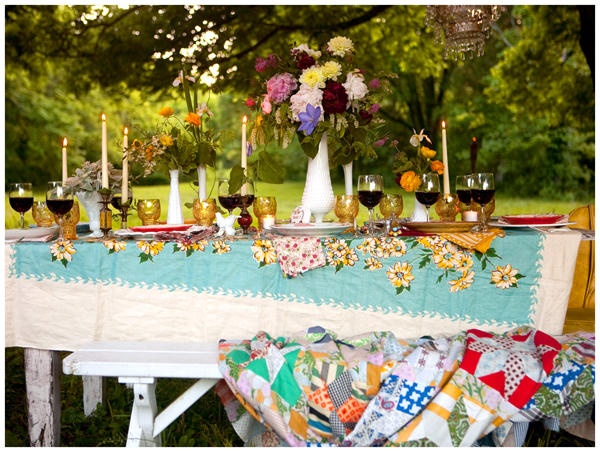 Foto vía Once Wed
La clave está en que sea algo informal, que cojamos la comida de unas grandes mesas, nos la llevemos en un plato o en una cajita de cartón como las de la comida para llevar y son sentemos con quien más nos apetezca.
The key is in créate something informal, where gather the food from big tables and carry it in plates or in boxes as the take away food and take seat with those ones that we prefer.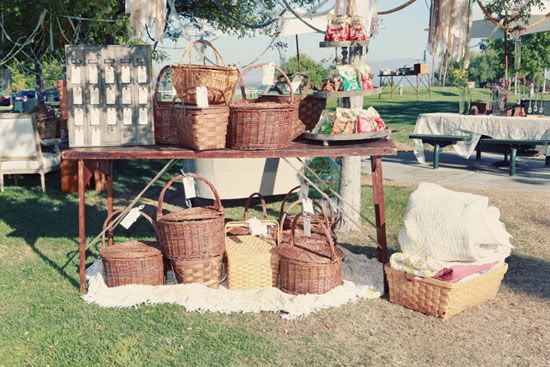 Foto vía White Rose Weddings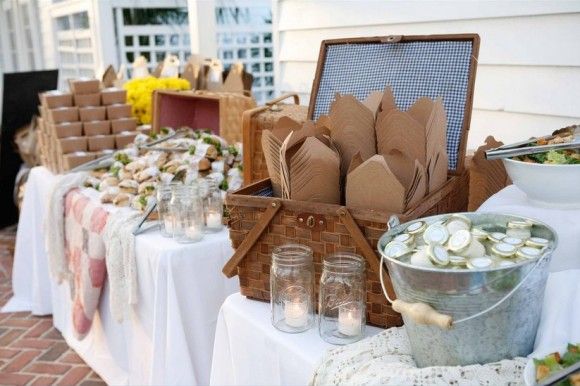 Foto vía The Sweetest Occassion
Por último una ultima idea que me encanta, usar una viejo carro o furgoneta para colocar el buffet, las cestas…
Finally I want to show you a last pretty idea that I really like, using an old cart or pick up to put on the buffet or the  baskets.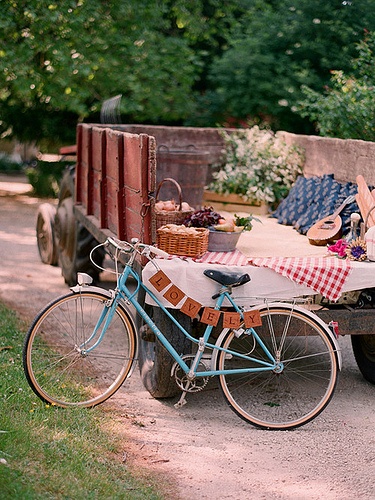 Foto vía Deco Marce
Si os gustan los picnics tanto como a nosotros no dudéis en llamarnos para que os ayudemos a tener la fiesta/picnic más bonita que hayáis imaginado nuca.
Feliz Fin de Semana!!
If you love picnics as we do, please don´t hesitate to give us a call and we will help you to have the most beautiful party/picnic that you have ever imagine before.
Have a nice Weekend!!