November 7, 2012 in Bodas, Decoracion, Eventos
En nuestro último post dedicado al seating plan y los marcasitios dejamos los números de mesa como un capítulo aparte por no extendernos demasiado,  no porque su elección pueda ir aparte del resto de decoración. Según el tipo de celebración podremos encargar que nos hagan los meseros de madera, de papel, de tela, etc.,  utilizando como soporte botellas, pizarritas, marcos de fotos…
In our last post focused on  seating plan and  placecards  we left table numbers  as a separate chapter in order to not overextend  but  not because you can choose  them apart from the rest of the decoration. Depending on the type of event we are going to celebrate  we could order the table numbers  made by  wood, paper, material, etc., and  using as support bottles, little slates, photo frames …
Foto vía Edyta Photography
Como existen miles de posibilidades aquí os vamos a mostrar solo algunas de las que nos han parecido más originales y bonitas, si aún así os quedáis con ganas de ver más podéis hacerlo haciendo clic aquí. A mi personalmente me encantan los que están hechos con letras de scrable antiguas, tienen ese toque vintage que los hace irresistibles.
As there are thousands of possibilities  we are going to show only some that we find most original and beautiful, but if after reading our post you  still want to see more images you can do by clicking here. I personally love that made with old scrable letters, they have that irresistible  vintage flavour.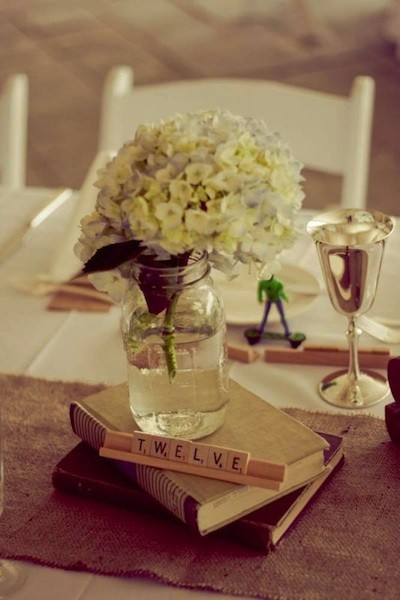 Foto vía Intimate Weddings
Foto vía Style Me Pretty
Pero los números de mesa no tienen por qué ser algo que se coloque sobre la mesa, por ejemplo podemos hacer manteles con el número pintado o bordado,si además utilizamos manteles de arpillera obtendremos un resultado campestre perfecto.
But the table numbers are not necessarily something that is put on the table, for example we can make tablecloths with the number painted on or embroidery. If we also  use  burlap tablecloths  the result will be absolutely stunning and country.
Foto vía Martha Steward Weddings
Del mismo modo los números de mesa no tienen por qué ser números, podemos identificar las mesas con fechas, fotografías o con los nombres de nuestros autores o libros favoritos.
Actually the  table numbers don´t need to be a number, we can identify the tables with dates, photographs or the names of our writers or favorite books.
Foto vía Green Wedding Shoes
Nos gustaría terminar enseñandoos un detalle que nos parece especialmente bonito, los cartelitos para destacar los asientos de los novios en la mesa como por ejemplo los que hacen nuestro amigos de Studio Cuatro.
We would like to finish showing you a detail that for us seems especially pretty, the little signs to highlight the couple seats at the table like that made by our friends from Studio Cuatro.
Foto vía Studio Cuatro

El seating plan: organiza las mesas y a tus invitados con estilo. The seating plan: organizes the tables and your guests with style.