December 7, 2012 in Bodas, Decoracion, Decoration, Eventos, Weddings
Tomar el té está de moda y las tea parties también, una forma de reunirse con amigas para merendar, pero no es solo eso es toda una ceremonia que requiere una decoración y unos preparativos propios.
Tea is fashionable and also tea parties,  a way to meet friends for tea, but this is more than it,  is  a ceremony that requiring it´s own  decor and  preparations.
Foto vía My Sweet Philosophy
Si queremos organizar una tea party debemos cuidar algunos detalles como la mantelería, la vajilla, los centros florales… la inspiración es generalmente vintage, con tazas y teteras de porcelana de estilo inglés y  los colores pasteles y peladilla. Pue des ver  más ideas decorativas en nuestro post Alice in Wonderland Weddings.
If we want to organize a tea party we should care some details like table linen, crockery, floral arrangements … the inspiration is usually vintage, china cups, English style teapots with a pastel palette. You can see more ideas in our post Alice in Wonnderland Weddings.
Foto vía A Fanciful Twist
El menú adecuado para una tea party será tanto dulce como salado,  cupcakes, macarons, tartas variadas o pequeños sandwiches   y serviremos té y otras bebidas calientes como chocolate y café.
The appropriate menu for a tea party will be both sweet and salt, like cupcakes, macarons cakes or small sandwiches and we will serve tea and other hot drinks such as chocolate and coffee.
Foto vía The Glitter Guide
Si celebráis próximamente vuestra boda y os encanta el té podéis incluir una tea bar con diferentes tipo de infusión para acompañar los postres o incluso hacer una versión de la lemonade bar con té helado.
If you are going to celebrate your wedding and love tea you could include a tea bar with different specialities to take with the desserts or make a lemonade bar version with iced tea.
Foto vía Intimate Weddings
Podréis incluso obsequiar a vuestros invitados con pequeñas cajitas de té con etiquetas personalizadas.
If you want you could make beautiful guest favors with tea boxes and pretty customized labels.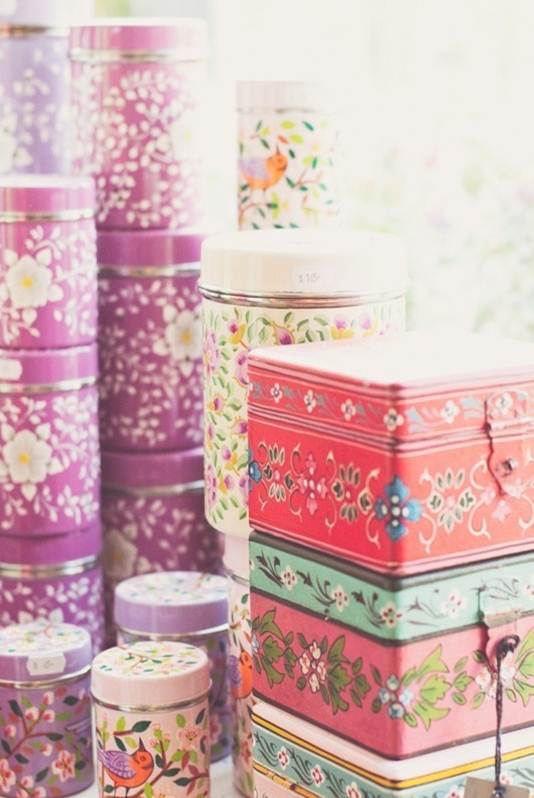 Foto vía Girly Me
Si después de todas estas preciosas imágenes todavía quieres ver más, haz click aquí y si quieres que te ayudemos a preparar tu propia te party no dudes en ponerte en contacto con nosotros.
If after all these pretty pictures still want to see more, click here and if you want us to help you to prepare your own party will not hesitate to contact us.