December 20, 2012 in Bodas, Decoracion, Decoration, Eventos, Weddings
¿Qué mujer no ha imaginado alguna vez cómo sería su boda? pues hoy os vamos  a confesar cuál es nuestra  boda perfecta, una boda de feria! Pero no una feria cualquiera, una de esas americanas que vemos en las películas, con cabinas en las que se pagan unos centavos por un beso, preciosos carruseles, banderines por todas partes, balas de paja y un intenso olor a palomitas de maíz y algodón dulce.
Who has not ever imagine how her wedding was going to be?  today we are going to confess you what is our perfect wedding, a carnival wedding!But not any fair, one of those we see in American movies, where you pay some pennies for a kiss in a kissing booth, beautiful carousels, flags everywhere, traw bales  and a strong smell of popcorn and cotton candy.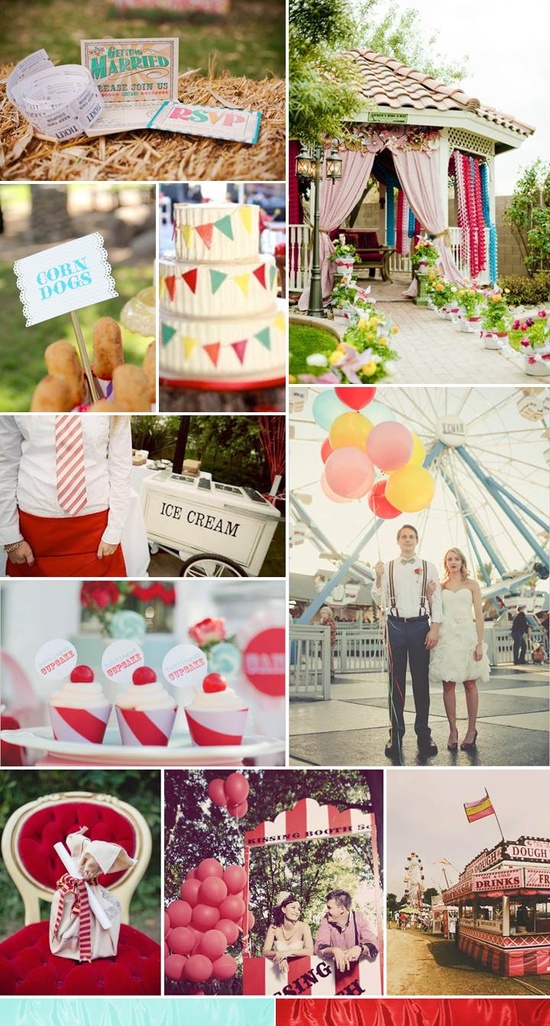 Foto vía The Simplifliers
Quedan desterrados los blancos y crudos que se reservan exclusivamente para el vestido de la novia, el resto está cuajado de colorido más o menos intenso en función del toque que deseemos darle, si queremos que sea vintage los tonos turquesa, fucsia, rojo… se apagarán ligeramente sin llegar a ser pasteles. y para terminar un toque retro circense.
Whites are banished and reserved exclusively for the bride's dress, the rest is crowded with colorful varying intensity depending on the style we desire to give, if we want a vintage wedding the turquoise, fuchsia, red … will becoming slightly but not  pastel colours. and finally a touch of retro circus style.
Foto vía Zenadia Design
Como hacemos normalmente os vamos a dar pistas para elegir correctamente todos los elementos de estilo carnival para vuestra boda. Empezamos con las invitaciones en las que la tipografía es fundamental.
As we usually do we will give you some clues to choose correctly all the carnival style elements for your wedding. We start with the invitations in which typography is essential.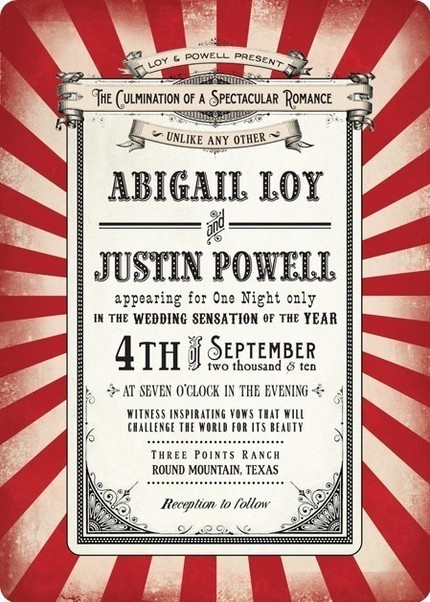 Foto vía Quest Twenty Eight
Para nosotros lo ideal es sustituir el banquete por una serie de puestos donde serviremos diferentes tipos de comida que la gente podrá coger y comer bien en una mesa o de pié mientras visitan las diferentes casetas. La decoración ideal para los puestos serán las rayas circenses.
For us it is best to replace the banquet by a series of booths where we will serve different types of food that people can catch and eat well on a table or stand. The ideal decoration for it are circus stripes.
Foto vía Kat Forsyth
En cuanto a la cakes buffet y la candy bar podemos decantarnos bien por una preciosa mesa con tartas de estilo casero o por torres de donuts y cupcakes acompañados por algodón dulce. La máquina vintage de palomitas no puede faltar en una boda así y adémás podremos no solo comernos las palomitas sino que podremos incluso usarlas como confetti.
As for the cakes and candy bar buffet can either opt for a lovely table with home-style pies or donuts and cupcakes towers accompanied by cotton candy. Vintage popcorn machine is a must in a carnival wedding  and not only can eat popcorn but we can even use them as confetti.
Foto vía Casa Sugar
Foto vía Catch My Party
Una boda de este tipo elude los convencionalismos y protocolos habituales  pero asegura la originalidad y la diversión en la que tendrán cabida no sólo los adultos sino que los niños disfrutarán como nunca.
A wedding of this type avoids the usual conventions and protocols but ensures the originality and fun, not only for  adults because children will enjoy as ever.
Si después de todas estas preciosas imágenes todavía quieres ver más, haz click aquí y si quieres que te ayudemos a preparar tu boda de feria no dudes en ponerte en contacto con nosotros.
If after all these pretty pictures still want to see more, click here and if you want us to help you to prepare your  carnival wedding will not hesitate to contact us.