April 7, 2013 in Bodas, Decoracion, Decoration, Eventos, Weddings
En muchas ocasiones hemos hablado, y seguiremos haciéndolo, de bodas con una temática especial o inspiradas en una época histórica concreta, pero hoy quiero enseñaros una forma muy original, perfecta para los amantes de lo natural, la decoración con hortalizas, plantas aromáticas y frutas. Esto no significa para nada que dejemos a un lado las flores, pero si que las combinemos.
Many times we have spoken, and we´re going to continue doing it, about wedding with a special theme or inspired by a particular historical time, but today I want to show you a very original way of decoration, perfect for nature lovers, the decoration with vegetables, herbs and fruits . This does not mean at all that we put aside the flowers, but combining them.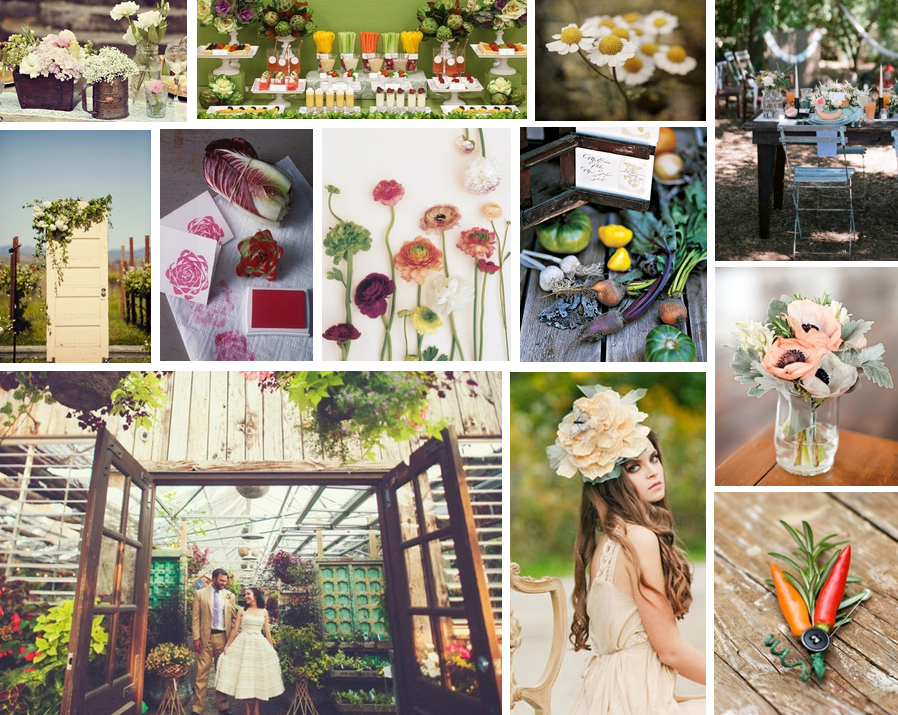 Foto vía Burnetts Board
La variedad de colores, olores y, por qué no, sabores es inmensa y las podemos utilizar como motivo decorativo para las invitaciones, los números de mesa, los marca sitios e incluso como obsequio regalando a nuestros invitados saquitos o sobrecitos con diferentes tipos de semillas.
The variety of colors, smells and, why not, flavors is immense and we can use it as a decoration for invitations, table numbers, place cards and even use them as  guests presents,giving away gift bags or sachets with different types of seeds.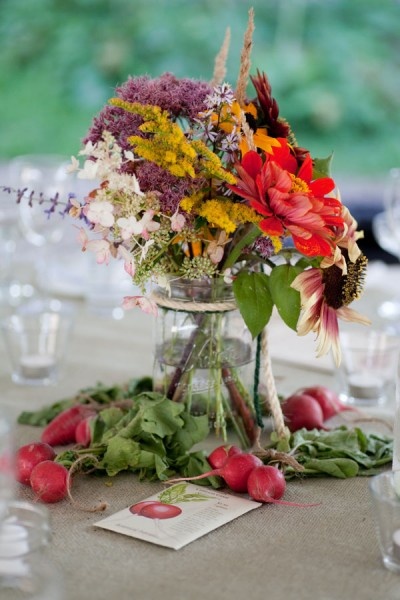 Foto vía Elizabeth Anne Designs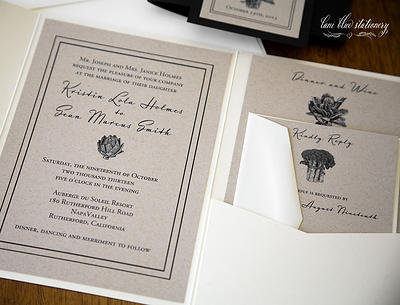 Foto vía Lani Blue Stationery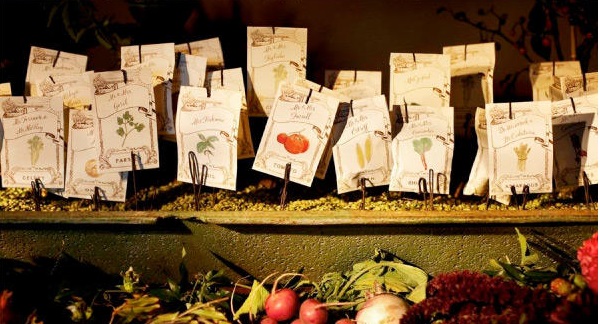 Foto vía Style Me Pretty
Lo mejor es mezclar las hortalizas con flores silvestres como lavanda, margaritas, flor de azafrán, siempreviva o girasoles y plantas aromáticas como por ejemplo menta, romero o laurel. Las hortalizas más utilizadas y que pueden darnos más juego son los rábanos, las coles, las zanahorias y las alcachofas. Si además de todo esto utilizamos también algunas frutas el resultado serán unos centros espectaculares.
It's best to mix the vegetables with wild flowers like lavender, daisies, saffron flower, suculent or sunflowers and herbs such as mint, rosemary or laurel. The most used vegetables and those that can give us more use are radishes, cabbage, carrots and artichokes. If also use some fruit the result will be  spectacular centerpieces.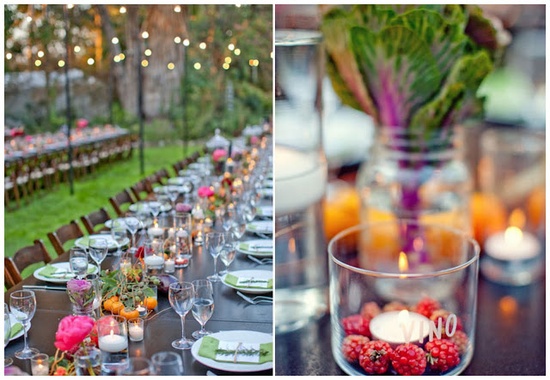 Foto vía Before the Big Day
Aunque en un primer momento podamos pensar que la decoración con vegetales solo es válida para bodas tipo granja o granero si la complementamos con velitas y otro tipo de flor como peonías o rosas  el resultado será perfecto para bodas con un toque más refinado, como por ejemplo, las realizadas en un viñedo.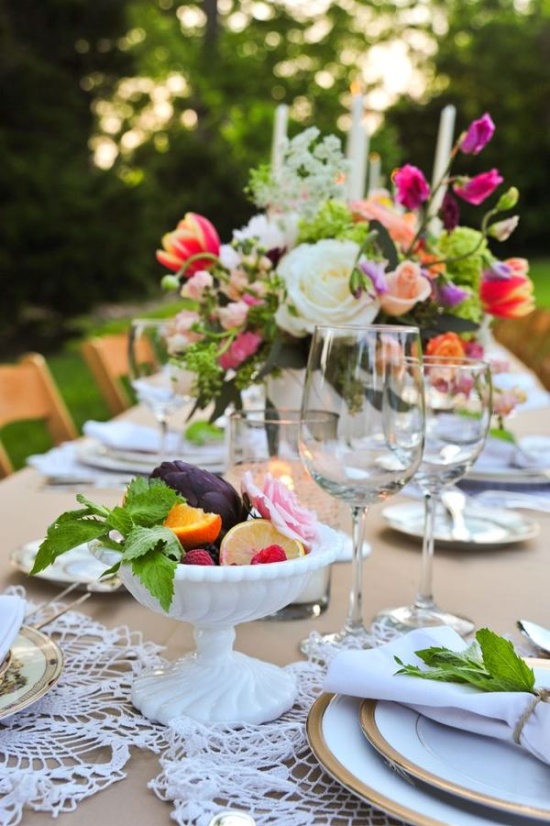 Foto vía Pinterest
Y para las novias más atrevidas el siguiente paso sería incluir en el tocado o en el ramo hortalizas y hierbas o incluso sustituir completamente las flores si se trata de una boda rústica, de estilo farm o country market.
And for the more daring brides the next step would be to include in the headdress or even in the  bouquet,  vegetable and herb  or  replace completely  the flowers if it's a rustic farm wedding or if it is inspired in a country  market.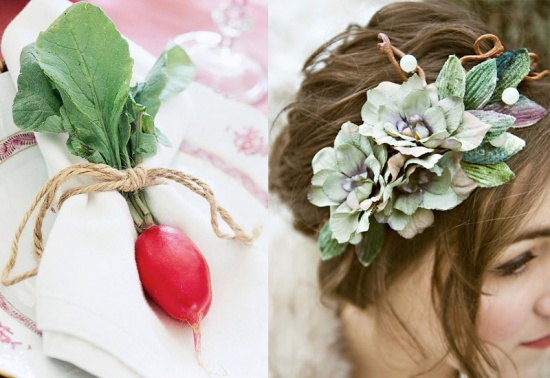 Foto vía Be Spoke Bride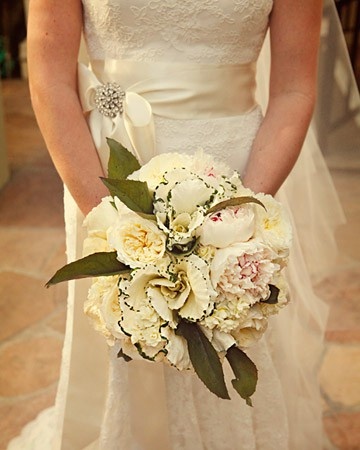 Foto vía Tied Bow Inspiration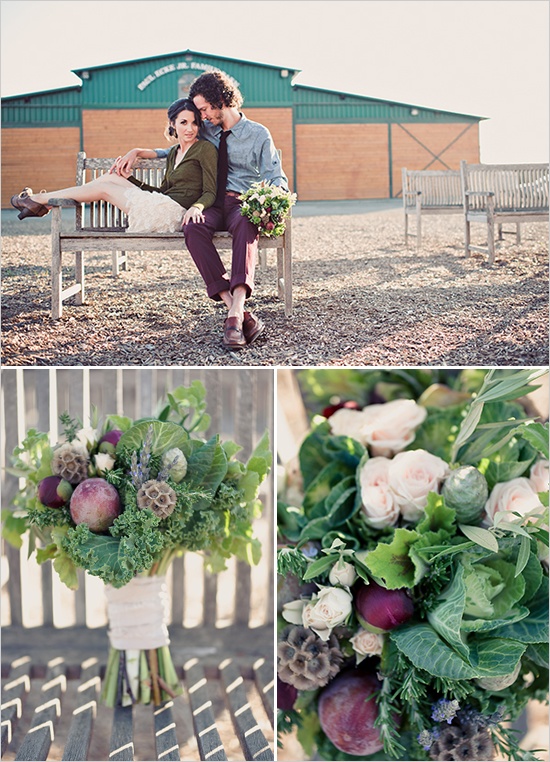 Foto vía Wedding Chicks
Si después de este post os atrevéis con una boda decorada con hortalizas y queréis que os ayudemos a organizarla y decorarla no dudéis en poneros en contacto con nosotros.
Para ver todas estas preciosas  imágenes y muchas más  haced  click aquí.
And if after this post you dare to have a vegetable wedding and  you need  help with the organization and decoration please do not hesitate on contact us.
To see all this pretty images and much more clic here.